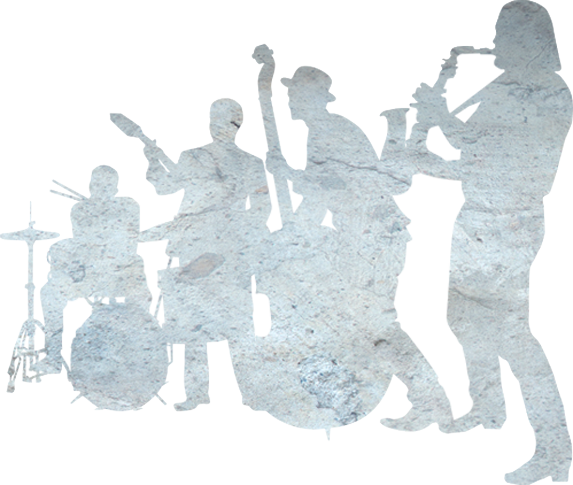 Music City's authentic late night jazz club
Serving classic New Orleans prohibition and pre-prohibition cocktails,
Local Brews, and
New Orleans Cuisine.

The next concert in the TJBS Great Albums Concert Series is this Friday May 26, 6:30pm and 8:30pm at Rudy's Jazz Room. The performance will celebrate the classic Gene Ammons and Sonny Stitt recording, "Boss Tenors". Featured performers will be saxophonists Evan Cobb and Rahsaan Barber. We're excited to begin a new partnership with the Tennessee Jazz and Blues Society! Tickets will be $15 for TJBS members and students, $20 for non-members. Tickets are on sale from Brown Paper Tickets. Seats for both the 6:30 and 8:30 shows will be General Admission (no reserved seating)

So come out, sip on a craft cocktail, and enjoy an evening of great jazz at Rudy's Jazz Room. Don't forget, Rudy's is an intimate jazz club with limited space. Reserve your tickets today to ensure a spot.

Tickets available now at http://www.brownpapertickets.com/event/2951342.
TONIGHT'S SHOWS
NMAAM presents Fine Tuning (Artist Master Class)
10:00am-1:00pm, no cover
National Museum of African American Music is excited to expand our efforts with the introduction of a new adult educational component – Fine Tuning - Master Classes. This series kicks-off...
Matt Endahl - Solo Piano
5:30pm-7:30pm, no cover
Jody Nardone Trio
8:00pm-11:00pm, $15
Jody Nardone - Piano Jerry Navarro - Bass Derico Watson - Drums

"Thanks to a dynamic style that can shift from the whispered beauty of Bill Evans to the percussive flights ...
Michael Toman Band
11:30pm-2:30am
Drummer Michael Toman has been described as a drummer with solid time, an affinity for groove, and also being able to adapt to any musical situation. Some of Michael's influence include the...

Matt Endahl - Solo Piano
5:30pm-7:30pm, no cover
Music City Big Band
8:00pm-11:00pm, $8

Jimmy Sullivan Duo featuring Billy Contreras
5:30pm-7:30pm, no cover
Nashville-based musician Jimmy Sullivan has recorded and/or performed live with recording artists Lee Ann Womack, Mark Collie, The Farmer and Adele, Buddy and Billy, Mary Bragg, M...
Giovanni Rodriguez Band
8:00pm-11:00pm, $8

Jeff Goodkind - Solo Piano
5:30pm-7:30pm, no cover
Joe Freel
8:00pm-11:00pm, $8

Marc Payne
5:30pm-7:30pm, no cover
One of the most talented young up and coming jazz pianists in Nashville, Marc Payne is sure to dazzle you with beautiful chords, lines, rhythms, and harmonies.
Wooten Wednesday
8:00pm-11:00pm, $10
Romeo Hill
11:30pm-2:30am, $5

Bruce Dudley - Solo Piano
5:30pm-7:30pm, no cover
Jazz Pianist and composer BRUCE DUDLEY has performed at Jazz Festivals in Canada and the United States since 1974 when he was the featured 'Young Talent' winner at the Wichita Jaz...
Speakeasy Swing at Rudys
8:00pm-11:00pm, $10
Shindig Mafia presents Speakeasy Swing at Rudys Starting May 11th, Thursdays are the new best-night-out at Nashville's only jazz club! Featuring 1930s-1940s live music. Vint...

Visceral Trio
5:30pm-7:30pm
Pat Coil
8:00pm-11:00pm, $8
January 2nd:
Pat Coil - Piano
Don Aliquo - Sax
Jim Ferguson - Bass
Josh Hunt - Drums

January 3rd:
Pat Coil - Piano
Pat Bergeson - Guitar
Late Night Jam Session with Jeffrey Lien
11:30pm-2:30am, $5

Pat Coil
8:00pm-11:00pm, $8
January 2nd:
Pat Coil - Piano
Don Aliquo - Sax
Jim Ferguson - Bass
Josh Hunt - Drums

January 3rd:
Pat Coil - Piano
Pat Bergeson - Guitar