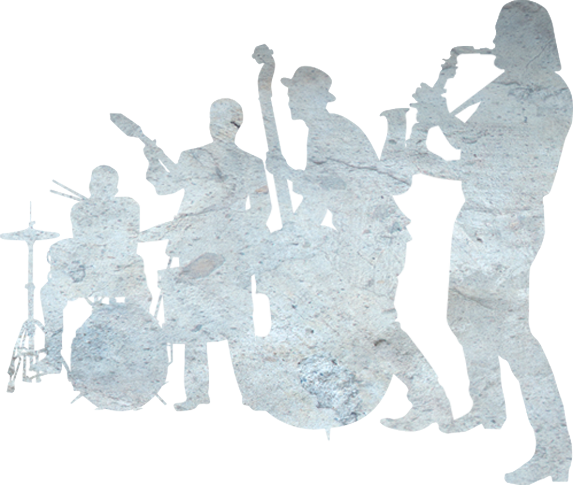 Music City's authentic late night jazz club
Serving classic New Orleans prohibition and pre-prohibition cocktails, local brews, and New Orleans cuisine.

HAPPY HOUR SPECIALS
Mon-Fri 5-7:30pm
Misterioso Mondays:
one of our most loved house cocktails for $8
Tuesdays -Rudy's loves Locals:
$4 Local Drafts, $5 Pickers, Corsair, or New Orleans beans & rice cup
Wednesdays Wooten & Wine:
$6 wines (Pinot Grigio, Malbec or Cava)
Thirsty Thursdays -Swing & Sazeracs:
$8 Sazeracs with purchase of ticket to show, $2 off drafts
Fridays Wine & Dine:
$19 Jazz Combo includes cup of New Orleans beans & rice, side salad, and choice of glass of Malbec or Pinot Grigio
TONIGHT'S SHOWS
Private Event
5:30pm-7:30pm
Rudy's will be closed for a private event
Swing dance instruction
8:20pm-9:00pm
Learn how to swing dance with swing dance lessons with Laynee Day.
Thursday Night Swing Dance w/ Anna Arata
9:00pm-12:00am, $10 at the door
Every Thursday enjoy the best night out at Nashville's only jazz club! Featuring live music from the 1930s and 1940s. Vintage swing dancing, swanky ladies and gents. Take your sweetheart out, sip on tipsy cocktails like our $8 Sazeracs all night long, and enjoy our New Orleans inspired menu to boot!

Anna Arata is a jazz singer based in Nashville, TN. At only 24 years old, she is a seasoned professional having managed & performed in a successful swing band, performing repeatedly at the Grand Hotel on Mackinac Island, and running her own jazz ensembles. The Anna Arata Vintet is a swing band devoted to bringing audiences tunes from & inspired by the 30's & 40's. Line up: Keys: Will Padgett Drums: Johnny Richeson Bass: Carter Murphey

Marc Payne Solo Piano
5:30pm-7:30pm, no cover
One of the most talented young up and coming jazz pianists in Nashville, Marc Payne is sure to dazzle you with beautiful chords, lines, rhythms, and harmonies.
Josh Rosen Presents: Pat Metheny Group Tribute
8:00pm-11:00pm, $15 at the door
Keyboardist Josh Rosen presents a tribute to one of the most influential groups of the last forty years, The Pat Metheny Group. The focus will largely be on material from "The Brazilian Years", the period from 1984-1989 when PMG released ground breaking albums like "First Circle" "Still Life Talking" and "Letters From Home". Darin Favorite on guitar, Josh Rosen on piano and keyboard, Luis Espaillat on Bass, Derrek Phillips on drums, and Abigail Flowers and Hollie Hammel will be singing.

David Williford
11:30pm-2:30am, $10 at the door
Woodwind player and composer David Williford was born and raised in Knoxville, TN. Currently residing in Nashville, he works as a performer, composer, and educator. With early musical experiences playing blues, soul, and rock with his father, and studying modern jazz and classical music with artists like Don Aliquo, he has found a diverse and soulful place in the changing music scene. His working band presents original music, free improvisations, and re-imagined standards to Nashville regularly.

Apart from his own projects, David has performed and recorded with a wide variety of artists as a player and arranger. Some highlights include Dynamo, Mike Hicks, The Nashville Jazz Composers Collective, Jeff Coffin, Sory Diabaté, Rick Wilkerson, The Great Barrier Reefs, Charles Butler, Michael Toman, and David Rodgers.

Elliott McClain Solo Piano
5:30pm-7:30pm, no cover
Elliott McClain is an independent pianist, artist, and musician who specializes in session recording and live performance. Blind since birth, Elliott started playing piano as soon as he discovered a keyboard, and has been known ever since for his exceptional aural and improvisational skills in diverse musical styles.

Elliott is a winner of the 2017 VSA International Young Soloists Competition, a Jean Kennedy Smith Arts and Disability Program, recognizing outstanding musicians with disabilities, ages 14–25, from around the world. Award week culminated with a performance on the Kennedy Center Millennium Stage in Washington DC.

As a freshman at Belmont University, Elliott was selected as a pianist for the premier jazz ensemble at the university. He was honored to have a feature role, sharing a duet with Ricky Skaggs, when Mr. Skaggs was awarded the prestigious Applause Award at the 2014 President's concert. He was one of several featured soloists with the Jazz Band during the nationally televised Christmas at Belmont performance in 2013, and performed in the Woods Piano Scholar Concert at Cheekwood Arts and Gardens.

Prior to college, Elliott performed with Lake Rise Place (LRP), a local pop trio, as keyboardist and lead vocalist in numerous local events and venues from 2008-2012. With LRP, he performed at prestigious venues including the Schermerhorn Symphony Center, Ryman Auditorium, Tennessee Performing Arts Center, and Ford Theatre at the Country Music Hall of Fame and Museum. Many of the events were sponsored by VSA Tennessee.

Elliott was awarded the Woods Piano Scholarship by Belmont University's School of Music, a four-year scholarship awarded annually to one freshman entering Belmont as a piano major. He was named VSA Tennessee Young Soloist in 2016. The Mayor's Advisory Committee for People with Disabilities named LRP Artist of the Year in 2011, and they were named Tennessee Goodwill Ambassadors by Governor Phil Bredesen in 2010.
Pat Bergeson
8:00pm-11:00pm, $15 at the door
Guitarist, Harmonica player Pat Bergeson grew up in Batavia Illinois and moved to NYC where he honed his Jazz skills for 10 years. He was brought to Nashville by Chet Atkins in 1993 after hearing him on a demo tape. Pat recorded was featured on two of Chet's recordings "Read My Licks" and "Sneaking Around" with Jerry Reed. He has since worked with Lyle Lovett, Dolly Parton, Johnny Cash, Suzy Bogguss, Tommy Emmanuel, Joey DeFrancesco, Annie Sellick, Alison Krauss ,Bill Frisell, Michael McDonald, Madeleine Peyroux, Benny Golson, etc.
Charles Kay Quartet
11:30pm-2:30am, $10 at the door
Saxophonist and composer Charles Kay was born and raised in Chicago, IL. Currently based in Nashville, he performs in a variety of musical settings, both as a leader and sideman. He began his musical journey as a youngster playing in the blues, R&B, and soul styles. Upon his arrival in Nashville he took the styles of swing, bop, and modern jazz and started to weave them into his own unique sound. During his time touring in and out of Nashville, he has had the pleasure to perform on stages including The Grand Ole Opry, The Grand Hotel, and Nashville's own Rudy's Jazz Room, to name a few. Charles is dedicated to bringing a modern flair to the tunes of the Great American Songbook as well as performing original compositions. Dancing and listening audiences alike will find joy in the melodic sounds of the Charles Kay Quartet.

Stephanie Adlington
6:00pm-8:30pm, $10 at the door
Stephanie Adlington, otherwise known as, "The Siren Of The South", is a working singer, songwriter, actor, and vocal coach. Born and raised in Grafton, WV, Miss Stephanie is a graduate of the prestigious Royal Academy of Music in London, England, and also attended the Eastman School of Music in Rochester, NY, and (pre-college) Carnegie Melon University in Pittsburgh, PA. While in London, Stephanie recorded with the folk-rock band Renaissance, which produced three critically acclaimed international albums. Known for her unique vocal styling, an evening with Miss Stephanie carries her audience back to the prohibition era - a scandalous rendezvous in a wicked speakeasy, where swagger goes and bourbon flows. Her show titled, "The Jazz, Pearls, and Bourbon Review" is a throwback to the glorious days of old school jazz: think top-shelf juke joint meets Southern hospitality. Drink in an infusion of bourbon, Johnny Mercer, Billie Holiday, Patsy Cline, and Fats Waller and you just sidled up to the bar next to, "The Siren Of The South".
Jazz Jam
9:00pm-11:30pm, $10 at the door
Rudy's hosts the official pro jazz jam. Come out and experience some of music city's best as they take the stage with Nashville's next generation of jazz performers!

We welcome all ages to this show.

Re-Evolution
6:00pm-8:30pm, $10 at the door
Rudy's house band featuring Brian Cornish on saxophone, Regi Wooten on bass, Nioshi Jackson on drums, Adam Charney on guitar, and Marc Payne on piano. Re-Evolution is heavily influenced by traditional and classic jazz cutting edge artists such as John Coltrane, Miles Davis, Wes Montgomery, Bill Evans, McCoy Tyner, Elvin Jones, Thelonious Monk and many more...
Giovanni Rodriguez & 12 Manos
9:00pm-11:30pm, $10 at the door
Giovanni Rodriguez is an exciting multi-instrumentalist and Nashville favorite on the Salsa and jazz scene. An electric night of Salsa dancing! Ernesto Lago Violin (Cuba) - violin/vocals Alex Rivas (Cuba) - piano/vocals Yosvany Cordero (Cuba) - bongos/cowbell Brian Allen (Indiana) - bass Jesus Agreda (Venezuela) - timbales/drums Giovanni Rodriguez (Dominican Republic) - congas/vocals

Mel Deal
6:00pm-8:30pm, $10 at the door
Mel Deal has been performing as a jazz guitarist in the Nashville area for over forty years. He was a close friend and student of the late jazz guitar great, Jimmy Raney. He also studied with Pat Martino, and Lenny Breau.

As an instrumentalist, he has performed with the Nashville Symphony, The Nashville Opera Co., The Huntsville Symphony Orchestra, The Nashville Chamber Orchestra, The Birmingham Symphony, Midland/Odessa Texas Symphony, and The Germantown Chamber Orchestra in Memphis, TN. Artists he has performed with include: Michael Feinstein, Melba Moore, Lorna Luft, Idina Menzel, Rita Coolidge, Willie Nelson, Neil Sedaka, Jimmy Webb, Ricky Woodard, Gatemouth Brown, Groove Holmes, Gene Bertoncini, Jack Wilkins, Mark Feldman, Paul McCandless, and Mundell Lowe.

In addition to a playing career, Mel is part of the faculty at The Nashville Jazz Workshop. He has taught jazz guitar clinics at The University Of N. Alabama, Hume Fogg and Battleground Academy, and was a guitar instructor at Montgomery Bell Academy for fifteen years.
Bob Harsen Band
9:00pm-11:30pm, $10 at the door
As a graduate from Berklee College of Music with a Bachelors Degree of Music in Performance, Bob Harsen has
Toured/Recorded/Performed with Tiger Okoshi, Randy Brecker, Paul Butterfield Blues Band, Rachel Z. & Kilimanjaro while still residing in Boston. Bob also was on faculty at Berklee College of Music from 1986-88 teaching Drums & Electronic Drums, Percussion classes.

In 1988 Bob moved to Los Angeles and toured, recorded and performed with many musicians including Richard Elliot, Melissa Manchester, Peabo Bryson, Bobby Caldwell, Eric Marienthal, Brian Bromberg, Max Bennett, Mitch Forman, Frank Gambale, Lee Oskar, Glenn Hughes, Jack Sheldon Big Band & Quartet, Brandon Fields, John Patittucci, Tim Weisberg, Steve Perry, Rikki Lee Jones, Bette Midler, Sally Kellerman, Ann Margaret, David Garfield, Jon Pena, Luis Conte, Adam Cohen.

Bob has played the Montreal Drum Festival 2001, Clinics worldwide/NAMM Shows/Frankfurt Music Messe for Yamaha,Zildian,Remo,Regal Tip,Audio Technica,Pork Pie, Meinl

Currently residing in Nashville,TN Bob does session work, gigs & clinics and is endorsed by Gretsch Drums,Regal Tip Sticks,Remo Heads,DW Hardware & Audio-Technica Microphones.


DeGenova Trio
6:00pm-8:30pm, $10 at the door
Somewhere between a soul pop concert, South Side jazz club, slam poetry reading, and punk rock dive bar, lives the music of Cole DeGenova... As a pianist, vocalist, and composer Cole DeGenova has spent most of his life crafting his eclectic artistic voice, beginning his career at age 16 as a jazz pianist around his native Chicago. As a bandleader, he started his funky alternative soul group Cole DeGenova & The Peoples Republic at the prestigious Berklee College of Music, where he released his first album JUST PEOPLE AGAIN in 2009, followed by his second album ANOTHER COUNTRY in 2012.

Now based in Chicago and Los Angeles, he is both an in demand studio musician as well as a touring performer around the globe. He has worked with Lupe Fiasco, Brett Dennen, Chance the Rapper, Gallant, Meshell N'Degeocello, Paula Cole, James Carter, engineer Eddie Kramer, producer/drummer Dave King, Naughty Professor, The Heard, and experimental jazz trio Hanging Hearts. He was also featured on the Latin Grammy winning album "Fantastico" by Lucky Diaz and the Grammy-nominated album "Ology" by Gallant. His third album THE RADIO HERO MIXTAPE was released spring of 2015 and the song "Hollywood Girl" was chosen as a Finalist in the 2015 American Songwriting Awards. He is currently working with producer Georgia Anne Muldrow on his upcoming 4th album REALLY HUMAN, set to be released in 2018.
Wooten Wednesday
9:00pm-11:30pm, $10 at the door
What day is it, Nashville? It's Wooten Wednesday of course! Every Wednesday, Regi Wooten assembles a cast of Nashville's best as they dig deep into the roots of funk, jazz, blues, rock, and soul. You never know who might jump on stage! Don't miss a beat!

Marc Payne Solo Piano
5:30pm-7:30pm, no cover
One of the most talented young up and coming jazz pianists in Nashville, Marc Payne is sure to dazzle you with beautiful chords, lines, rhythms, and harmonies.
Swing dance instruction
8:20pm-9:00pm
Learn how to swing dance with swing dance lessons with Laynee Day.
Thursday Night Swing Dance w/ The Willies
9:00pm-12:00am, $10 at the door
The Willies are Nashville based roots artists conjuring the spirit of that time before bordello jazz & dirty fingernail blues were the background music for baristas and doggy bakeries. But as veterans of the American underground, the Willies aren't interested in reenacting the rough and tumble legacy of 20's swing & blues... they embody that energy. And these genres are only starting points... vintage bottles to contain several lifetimes of experience in the jazz, blues and Americana underground.