No reservations, all seating is first come first seated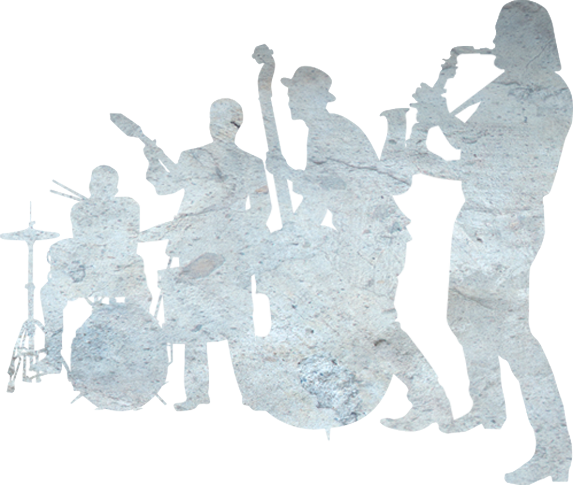 Music City's authentic late night jazz club
Serving classic New Orleans prohibition and pre-prohibition cocktails, local brews, and New Orleans cuisine.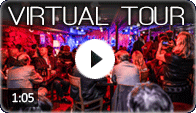 HAPPY HOUR SPECIALS
Mon-Wed 5-7pm, Thurs 5pm-8:30pm
Martini Monday:
1/2 price Martinis, *Salsa night 9-11:30 1/2 price Margaritas, *Service Industry Night - half off select food & drinks
Tuesdays:
Half Price Old Fashioned and Beignets, $2 off all Drafts
Wednesdays Wooten & Wine:
$6 wines / $10 off bottles (Cava, Malbec, Pinot)
Thursdays

(until 8:30pm):
$8 French Quarter inspired cocktails (Sazerac, Lavender Sidecar, French 75) and 1/2 price beignets
Sunday Brunch:
$5 Mimosas and Bloody Mary's & 2pm-5pm $15 cocktail flights
TONIGHT'S SHOWS
Hot Club Gypsy Jazz Thursdays; Rudy's French Connection
6:00pm-8:30pm, $10 at the door
Hot Club Gypsy Jazz Thursdays; Rudy's French Connection

Every Thursday we honor our New Orleans and French roots and Rudy's comes alive with a variety of small groups in the Django style of gypsy jazz swing. There's no better place to chill, cozy up and relax after work. Enjoy $8 French Quarter inspired cocktails (Sazerac, Lavender Sidecar, French 75), have a glass of Côtes du Rhône, and enjoy some gumbo or beignets while listening to the rhythm and mood of hot club jazz in Nashville's most intimate and romantic room.
Pat Coil Quintet w/ Brandon Moore, Pat Bergeson, Brian Allen & Josh Hunt
9:00pm-12:00am, $10 at the door
Pianist Pat Coil w/ Brandon Moore, Pat Bergeson, Brian Allen & Josh Hunt

Born in Jefferson City, Missouri, Pat is an accomplished pianist, composer, producer and arranger, as well as a highly respected studio musician. If you watch television, listen to the radio, or go to the movies, you have heard Pat and some form of his music. Pat has toured Japan, South America, Europe and the U.S. with such artists as Michael McDonald, Carmen McCrae, Olivia Newton John, Amy Grant, Vince Gill, Woody Herman and many others. Pat has recorded with many artists including Natalie Cole, Trisha Yearwood, Ernie Watts, Carmen McCrae, BeBe & CeCe Winans, Kenny Rogers, Travis Tritt, Peter Cetera, Woody Herman, Scott Henderson, and Michael McDonald. His talent spans the musical spectrum of jazz, pop, R&B, gospel, and country.

Living now in Nashville TN, Pat continues his successful career composing, recording, performing, producing, arranging and teaching. He has composed, produced and performed on hundreds of underscores heard on a variety of media all over the world. Pat taught jazz piano, combos, and improvisation at Middle Tennessee State University, and was an Associate Professor of Jazz Studies at the University Of North Texas.

Pat has recorded six solo jazz albums of his own, the third one being a collaboration with Lyle Mays. "True North" and his new album "Birdhouse" are available at patcoil.com, cdbaby.com and I-Tunes. Pat is currently on tour with Michael McDonald, and makes numerous appearances with his own group. Pat is currently working on a new release of his original music.

Olivier Franc & Jean Baptiste Franc Duo; Sidney Bechet & Stride
5:30pm-7:30pm, $10 at the door
Olivier Franc, the world best Sidney Bechet style player, who plays on Bechet's own soprano saxophone, with spectacular stride pianist Jean Baptiste Franc.
Born in 1953, soprano saxophonist Olivier Franc is the son of René Franc, clarinettist of the Pierre Braslavsky's band and of the André Réwéliotty's orchestra who played with Sidney Bechet. Olivier Franc began his carrier in 1979 was awarded the Prix Sidney Bechet by the French Académie du Jazz. Well established in the jazz scene, music critics call Olivier Sidney Bechet's best disciple, and in 1997, he was rewarded with the Prix du Musicien Français from the Hot Club de France for his live CD "Swing Folies". Olivier Franc plays fresh and personal music while remaining faithful to the spirit and style of Sidney Bechet. Since 2006, he has had the privilege of playing the saxophone that belonged to Sidney Bechet. Besides Jazz Clubs, Concerts Halls and Jazz Festivals all over Europe (Jazz in Marciac 2009 with the Wynton Marsalis sextet and Bob Wilber), The Olivier Franc Tribute To Bechet Band has also had the chance to play in the prestigious Lincoln Center and Symphony Space in New York or the Opera Houses in Frankfurt and Dresden, where their performance was rewarded with a standing ovation.
Inventive stride, swing and blues pianist, Jean-Baptiste Franc created his own style by mixing melodic improvisation and stride. A self-taught musician, he was helped by his father, Olivier Franc, and his influences are Donald Lambert, James P. Johnson, Fats Waller and Sidney Bechet. In 2001, he had the chance to play with Fats Waller's guitarist, Al Casey and earned himself that night the nickname "Little Fats". Jean Baptiste has received the support of such pianists as Monty Alexander and Junior Mance for his cd recorded with Count Basie's drummer, Duffy Jackson. In 2010, Jean Baptiste recorded an album of original compositions made with Melody Federer in Hollywood produced by Pat Boon. The Olivier Franc's tribute to Bechet band has played in such places as Dresden and Frankfurt opera, Olympia theater in Paris, Lucerne Piano festival, La Roquebroue, Beaune, les nuits du boogie in Paris, and many more.
Olivier Franc, playing on the original Soprano sax of Sidney Bechet, solist of Wynton Marsalis band
Jean Baptiste Franc: 2018 world champion of Harlem Stride Piano from Ole Miss contest
Dara Tucker
8:00pm-11:00pm, $15 at the door
Vocalist and songwriter Dara Tucker has established a distinctive sound by fusing the melodic and lyrical strains of the central plains with the risk-taking verve of roots and jazz. Named "Best Jazz Vocalist of 2019" by the Nashville Scene and featured in the 2019 Music Edition of The East Nashvilllian, Dara has opened for Grammy Award-winning vocalist Gregory Porter, guested with Vince Gill and The Time Jumpers, toured with master guitarist Charlie Hunter and appeared on NPR's nationally syndicated Jazz Night in America. For this appearance at Rudy's Jazz Room, Dara will be accompanied by pianist Matt Endahl, drummer Marcus Finnie and bassist Greg Bryant on several of her original songs along with new compositions and arrangements on standards and folk tunes.
Geoff Pfeifer
11:30pm-2:00am, $10 at the door
The Geoff Pfeifer Quartet, gritty, edgy, the real deal NYC style jazz. Saxophonist Geoff Pfeifer brings some of Nashville's top jazz cats out, and you'll be sure to feel the energy. Playing a mix of original material and Wayne Shorter tunes, Pfeifer leads the group.

Geoff Pfeifer, a Nashville based musician and composer, has been living and performing in Nashville since 2005. Geoff studied saxophone with Ted Nash and Ralph Lalama and composition with Mike Holober and Jim McNeely. He is a saxophonist and arranger with the R&B band Chubby and The Dots and plays the 2nd Tenor Saxophone chair in The Establishment Big Band.

Saturday Showcase w/ Hume, Casey, Rotella & Gallo
12:00pm-3:00pm, no cover
Saturday Showcases feature local bands comprised of some of Nashville's finest educators and up and coming musicians, with special guests sitting in. Shows are free and all ages are welcome! Join us for lunch and drinks!

This Saturday Showcase features Arianna Hume, Ryan Casey, Annallisa Rotella, and John Gallo
Shaun Munday
5:30pm-7:30pm, $5 at the door
Shaun Munday is a one-of-a kind talent. He blends soul-drenched vocals with show-stopping bass guitar technique. Shaun captures audiences with a full band sound and plays the bass better than most people play a guitar.

He is a graduate of the Berklee School of Music in Boston, MA where he studied and performed with some of the greatest artists and educators in the industry including John Mayer, Esperanza Spalding, Matthew Garrison (Herbie Hancock), Antonio Sanchez (Pat Metheny) and Jetro Da Silva (Whitney Houston).

Shaun has shared the stage with Corinne Bailey Rae, Andra Day, Mary Wilson of The Supremes, blues legend Robert Cray, reggae royalty Aston Barrett and The Wailers (Bob Marley's band), country music star Collin Raye, Devon Allman and Yonrico Scott of the Royal Southern Brotherhood. His overall music style is inspired by Donny Hathaway, Al Green and Marvin Gaye.

Shaun released his self-titled debut album in March 2017 to rave reviews. Bass Player Magazine said, "Munday proves that he's going to be a bass heavyweight, as his flawless slap work and his melodically challenging lines are only ever outshined by his buttery crooning."
The Diane Marino Octet
8:00pm-11:00pm, $20 at the door
When you combine an accomplished vocalist, pianist, and arranger all in one individual, you have the dynamic Diane Marino. Diane was born in Manhattan, NYC. She started her early piano training of classical studies and jazz improvisation from the age of 10. Diane graduated from NYC'S 'Famed' High School for the Performing Arts and later received her B.M. degree from Mannes College of Music in Manhattan as a piano performance major where she studied piano with world-renowned concert pianist Murray Perahia. In her over 25 year career, Diane has performed Great American Song Book, traditional jazz, Latin and Brazilian jazz to captivated audiences in jazz venues, performing arts centers and festivals such as Birdland - NYC, Blues Alley - D.C., Vitello's Jazz Club - L.A., Arts Garage-Del Ray Beach, Twins Jazz-D.C., Nighttown-Cleveland, Heidi's Jazz Club-Cocoa Beach, Trumpets Jazz Club -NJ, Germantown Performing Arts Center, The Metropolitan Room-NYC, Bethesda Blues & Jazz - D.C, Montreux Atlanta Festival, Town Point Jazz Festival, Music City Jazz & Heritage Festival, to name a few.
Diane Marino (Piano/Vocals)
Don Aliquo (Sax)
Cole Burgess (Sax)
Frank Marino (Bass)
Neil Tufano (Drums)
Scott Ducaj (Trumpet)
Desmond NG (Trombone)
Jerome Degey (Guitar)
www.dianemarino.com
Nikki Elias and the Cosmic Collective
11:30pm-2:00am, $10 at the door
The Cosmic Collective covers multiple styles of music; from Jazz and Bossa nova to Pop, R&B, Funk, and Motown. The group boasts a range of accomplishments, including house dance band at The Grand Hotel in Mackinac Island, MI and a feature on Greg Pogue's Jazz Station on ACME Radio.

The band consists of formally trained musicians active in the Nashville area, vocalist Nikki Elias, bassist Tyler Enslow, Drummer Jed Smith, Keyboardist Jeff Goodkind, and saxophonist DeVante' Buford.

Their new electric jazz album, Abstract Notions, sports a feature from Jeff Coffin of Béla Fleck & The Flecktones and David Matthews Band, and is currently available on iTunes, Spotify, Amazon, and CD Baby.

Jazz Brunch with Janet Evra
11:00am-2:00pm, $20 at the door
All you can eat buffet and live jazz with Janet Evra.
From Gloucester, England, Janet Evra is a jazz vocalist, bassist, and composer based in St. Louis, Missouri. Evra blends traditional bossa nova, samba, and latin jazz with modern jazz influences to produce a fresh, lush sound. Evera performs at premier stages and music venues across the United States; in St. Louis, she performs monthly at The Dark Room and bi-monthly at Evangeline's Bistro and Music House. Her debut original album, Ask Her to Dance, features top St. Louis jazz artists Adam Maness on piano, Will Buchanan on guitar, Khamali Cuffie-Moore on trumpet, and Montez Coleman on drums, among others. Evra's music is played on jazz radio stations across the Midwest. Enjoy Evra's music
here
,
here
, and
here
(YouTube),
janetevra.com/
..
Matt Endahl Presents: The Immanent Albatross Septet
2:30pm-5:00pm, no cover
Jazz pianist, composer and educator Matt Endahl presents the seven student led jazz group "The Immanent Albatross Septet" and their arrangements of standards and originals. Featuring the music of John Coltrane, McCoy Tyner, and Fats Waller.
The Duffy Jackson Show
6:00pm-8:30pm, $15 at the door
A true legendary jazz drummer, Jackson is the son of Chubby Jackson, and played drums as a young child making appearances with Count Basie, Duke Ellington, Woody Herman, and Buddy Rich before he finished high school. In 1971 he relocated to Los Angeles, where he played with Monty Alexander, Ray Brown, Herb Ellis, Lena Horne, Milt Jackson, and Barney Kessel. Following a tour of Japan with Benny Carter, he appeared on television for two years with Sammy Davis, Jr. (1974-1976). Later in the 1970s he played with Grover Mitchell and did a tour of Europe with the Count Basie Orchestra.

In the 1980s Jackson worked with Lionel Hampton, Al Jarreau, James Moody, and Sonny Stitt, and in 1985 re-joined the Basie orchestra while Thad Jones was its leader. Following this he worked with Illinois Jacquet and Artie Shaw, then re-joined the Basie Orchestra under Frank Foster. In the 1990s, he relocated to Fort Lauderdale, where he played with Harry Allen, Billy Ross, and the Manhattan Transfer.
Jazz Jam
9:00pm-12:00am, $10 at the door
Rudy's hosts the official pro jazz jam. Come out and experience some of music city's best as they take the stage with Nashville's next generation of jazz performers!

We welcome all ages to this show.

Re-Evolution
6:00pm-8:30pm, $10 at the door
Featuring Brian Cornish on saxophone, Regi Wooten on bass, Nioshi Jackson on drums, Adam Charney on guitar, and Marc Payne on piano. Re-Evolution is heavily influenced by traditional and classic jazz cutting edge artists such as John Coltrane, Miles Davis, Wes Montgomery, Bill Evans, McCoy Tyner, Elvin Jones, Thelonious Monk and many more...
Giovanni Rodriguez & 12 Manos
9:00pm-11:30pm, $10 at the door
Giovanni Rodriguez is an exciting multi-instrumentalist and Nashville favorite on the Salsa and jazz scene. An electric night of Salsa dancing! Ernesto Lago Violin (Cuba) - violin/vocals Alex Rivas (Cuba) - piano/vocals Yosvany Cordero (Cuba) - bongos/cowbell Brian Allen (Indiana) - bass Jesus Agreda (Venezuela) - timbales/drums Giovanni Rodriguez (Dominican Republic) - congas/vocals

Anna Arata
6:00pm-8:30pm, $10 at the door
The Anna Arata Vintet is a swing band devoted to bringing audiences tunes from & inspired by the 30's & 40's. Line up: Keys: Will Padgett Drums: Johnny Richeson Bass: Carter Murphey
David Williford
9:00pm-11:30pm, $10 at the door
Woodwind player and composer David Williford was born and raised in Knoxville, TN. Currently residing in Nashville, he works as a performer, composer, and educator. With early musical experiences playing blues, soul, and rock with his father, and studying modern jazz and classical music with artists like Don Aliquo, he has found a diverse and soulful place in the changing music scene. His working band presents original music, free improvisations, and re-imagined standards to Nashville regularly.

Apart from his own projects, David has performed and recorded with a wide variety of artists as a player and arranger. Some highlights include Dynamo, Mike Hicks, The Nashville Jazz Composers Collective, Jeff Coffin, Sory Diabaté, Rick Wilkerson, The Great Barrier Reefs, Charles Butler, Michael Toman, and David Rodgers.

Cheryl Deserée
6:00pm-8:30pm, $10 at the door
Cheryl Deserée is an award winning Western Swing artist. Raised on the wrong side of the tracks in a sleepy town in the California desert, this cigar smoking, Samoan pinup writes about life and love with wit, grit & honesty. Saving Country Music has said her songs "have that classic country way of encapsulating a moment or feeling most people experience in their lives in a poetic, yet plainspoken way" and that "with a sultry, smoky, jazzy style, a hot shit cast of studio players, and original songs penned by Cheryl herself, she has let her presence be known". Rockabilly n' Blues Radio says "Cheryl blends her traditional country, western swing and jazz influences in a unique style that is all her own."
Regi Wooten & Friends
9:00pm-11:30pm, $12 at the door
Every Wednesday, Regi Wooten assembles a cast of Nashville's best as they dig deep into the roots of funk, jazz, blues, rock, and soul. You never know who might jump on stage! Don't miss a beat!

Hot Club Gypsy Jazz Thursdays; Rudy's French Connection
6:00pm-8:30pm, $10 at the door
Hot Club Gypsy Jazz Thursdays; Rudy's French Connection

Every Thursday we honor our New Orleans and French roots and Rudy's comes alive with a variety of small groups in the Django style of gypsy jazz swing. There's no better place to chill, cozy up and relax after work. Enjoy $8 French Quarter inspired cocktails (Sazerac, Lavender Sidecar, French 75), have a glass of Côtes du Rhône, and enjoy some gumbo or beignets while listening to the rhythm and mood of hot club jazz in Nashville's most intimate and romantic room.
Caravan Tales
9:00pm-12:00am, $10 at the door
From Paris to New York, from Jamaica to Brazil, the jazz of this quartet is colored by the origins and travels of its participants.

Jerome Degey, platinum producer, composer, arranger, and guitarist from Paris also speaks and plays the Brazilian musical language fluently (Kenia, Rolando Faria, Les Etoiles).

From Kingston Jamaica, Keith Jones, just back from his tours with French violinist Jean-Luc Ponty, started his fruitful L.A. career (Santana, Wayne Shorter, Al Jarreau, the Crusaders, Joe Sample) with Brazilian superstar Airto Moreira and Flora Purim.

Grammy Award-winning pianist and accordionist Will Barrow has played, toured, and recorded with an eclectic array of artists including jazz siblings Eloise, Ronnie, and Hubert Laws, the late disco diva Vickie Sue Robinson, R&B singer Freda Payne, Wanda Jackson, BeBe Winans, Karen Parks, Suzy Bogguss and the Gatlin Brothers.

On drums, Nioshi Jackson is a go-to live/tour and session musician in Music City. He has worked with the likes of Michael McDonald, Larry Carlton, Ricky Skaggs, Chester Thompson, Victor Wooten, and many others.