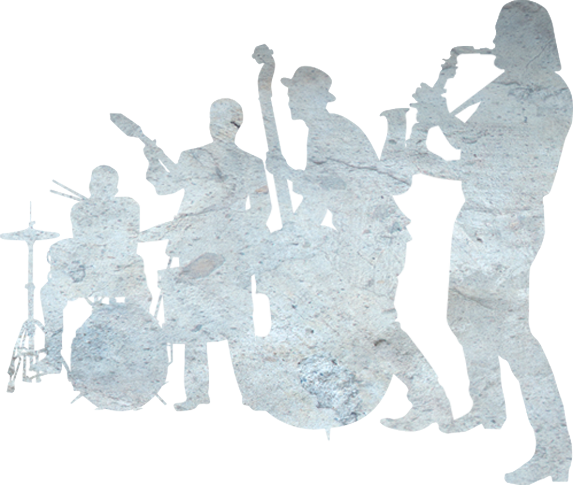 Music City's authentic late night jazz club
Serving classic New Orleans prohibition and pre-prohibition cocktails, local brews, and New Orleans cuisine.

HAPPY HOUR SPECIALS
Mon-Wed 5-7pm, Thurs 5pm-8:30pm
Martini Monday:
1/2 price Martinis, *Salsa night 9-11:30 1/2 price Margaritas, *Service Industry Night - half off select food & drinks
Tuesdays:
Half Price Old Fashioned and Beignets, $2 off all Drafts
Wednesdays Wooten & Wine:
$6 wines / $10 off bottles (Cava, Malbec, Pinot)
Thursdays

(until 8:30pm):
$8 French Quarter inspired cocktails (Sazerac, Lavender Sidecar, French 75) and 1/2 price beignets
Sunday Brunch:
$5 Mimosas and Bloody Mary's & 2pm-5pm $15 cocktail flights
TONIGHT'S SHOWS
Jimmy Sullivan & Cy Winstanley Quartet
6:00pm-8:30pm, $10 at the door
2018 NIMAS Jazz Instrumentalist of the Year Jimmy Sullivan is one of Music City's most sought after bassists. Since leaving New York for Nashville in 2014, Jimmy has performed and recorded with a multitude of artists spanning many different genres and styles. While being an incredibly versatile musician, jazz remains his passion and his love for the art form shines through in his many performances at Rudy's Jazz Room as both a sideman and band leader.

Cy Winstanley is a New Zealand-born, Nashville-based singer, guitarist, and songwriter. Cy plays with a number of artists including Aubrie Sellers, Andrew Combs, Rachel Baiman, Caitlin Canty, and Caroline Spence. As a songwriter, his band Tattletale Saints has released 2 albums, including 'How Red is The Blood' which won the New Zealand music award for Folk Album of The Year 2014. The most recent self-titled release came out in 2016 showcasing his nuanced lyrical, and harmonically diverse style. He has had a long love affair with American Songbook jazz, traces of which feature in his songwriting.

Jeff Goodkind is a pianist, keyboardist, percussionist, and composer, born and raised in California. While finishing up a B.A. in ethnomusicology at UCLA, he followed his musical interests in Los Angeles' eclectic music scene, from where he performed on six continents. Now calling Nashville home, Jeff seeks to incorporate the rich local soundscape into his own compositional voice.

Chris Brown is one of the most sought out and respected session drummers living in Nashville. Chris has played with the Maynard Ferguson Band, Don Grolnick and, tours with Sam Bush.
Kateri Farrell
9:00pm-11:30pm, $10 at the door
Kateri is a vocalist & flutist currently based in Nashville, TN. A budding soul/jazz artist, she captivates listeners with her sultry, soulful vocals and uniquely fresh and funky flute improvisation. Kateri received her music degree from the University of Wisconsin-Eau Claire where she studied flute and was a featured vocalist/flute player with the prestigious Jazz Ensemble I. Upon recommendations from several musician friends, she moved to Nashville in 2015 and quickly became involved in jazz, funk, soul, and singer-songwriter communities among others. Experienced in a variety of genres, Kateri can be seen performing in the greater Nashville area with groups such as retro-soul artist Lydia Brittan to Salsa/jazz musician Giovanni Rodriguez & 12 Manos. She is a member of The Jason Eskridge Band and shares the stage with Nashville's top soul artists. Kateri is working on material for her first EP set to be released in 2019.

Jennifer Bruce and DejaNu
6:00pm-8:30pm, $10 at the door
Come hear the powerful vocals of Jennifer Bruce and her jazz quartet as they brilliantly weave the classic songbook with a new spin of songs originally recorded in the pop style but with a clever new jazz twist. They have given songs written by such acclaimed artists as Paul Simon, Carol King, Stevie Wonder, Hall and Oats and the Everly Brothers new life and have audiences turning their heads and returning each time they have an opportunity to hear their New American Songbook.
Jennifer Bruce, the power behind the microphone, is a multi-talented song stylist who has the chops to cover the great tunes of all time and embraces some new tunes and before you know it, the old and the new songs are seen as the New Jazz Book. This versatile chanteuse has been influenced by many musical genres. A self-proclaimed old soul, Jennifer has a rich, sultry, soulful voice, and excels at song interpretation reminiscent of many classic torch singers. Jennifer Bruce and DejaNu released their second album "New Wine in Old Bottles" in May 2018.
Steve Willets, Nashville's beloved man behind the keys whose performance credentials include a wide variety of artists such as Sandi Patti, Michael W. Smith, Steven Curtis Chapman, Brenda Lee, Bonnie Bramlett, Crystal Gayle, Boots Randolph and many others. He composes and produces custom songs for many of today's major corporations, including; Honda, Dollar General, Bridgestone/Firestone and Harley Davidson.
Ray Von Rotz is a published author and has been one of Nashville's most in-demand drummers and percussionists since 1979. He has been the drummer on The General Jackson Showboat for the past 18 years. He has performed around the world with a variety of artists and almost every genre of music. Among the artists Ray has performed and recorded with are Boots Randolph, Al Hirt, Engelbert Humperdink, The Mills Brothers, Tony Orlando, Lee Greenwood, the Nashville and Milwaukee Symphony Orchestras just to name a few.
David Spicher, DejaNu's bassist and son of legendary fiddler Buddy Spicher has been an accomplished studio musician here in Nashville for many years. He has played bass with some of the best in all genres of music, including Kathy Mattea, Pam Tillis, Crystal Gayle, Jerry Douglas, Brian Setzer, Lorrie Morgan, the Nashville Symphony, Buddy Spicher's Nashville Swing Band, and many more.
Cole Burgess has been one of Nashville's premier reedmen for many years, working with various Big Bands and jazz groups here and around the country. He is the current Director of the longest running Big Band in Nashville, The Establishment.
www.JenniferBruceandDejaNu.com
www.JenniferBruceMusic.com
Regi Wooten & Friends
9:00pm-11:30pm, $12 at the door
Every Wednesday, Regi Wooten assembles a cast of Nashville's best as they dig deep into the roots of funk, jazz, blues, rock, and soul. You never know who might jump on stage! Don't miss a beat!

Hot Club Gypsy Jazz Thursdays w/ The Gypsy Hombres
6:00pm-8:30pm, $10 at the door
Hot Club Gypsy Jazz Thursdays; Rudy's French Connection

Every Thursday we honor our New Orleans and French roots and Rudy's comes alive with a variety of small groups in the Django style of gypsy jazz swing. There's no better place to chill, cozy up and relax after work. Enjoy $8 French Quarter inspired cocktails (Sazerac, Lavender Sidecar, French 75), have a glass of Côtes du Rhône, and enjoy some gumbo or beignets while listening to the rhythm and mood of hot club jazz in Nashville's most intimate and romantic room.

The acoustic violin/guitar based trio, The Gypsy Hombres, blend traditional jazz with European, South American, and classical music to create a sound unlike any other musical group. The Hombres' repertoire embraces a wide variety of composers and styles; from Brahms and Chopin to George Gershwin, Duke Ellington and Louis Armstrong to international folk songs, all while retaining the gypsy spirit. But besides just adding their own arrangements and personalities to standards, they are also accomplished composers with several original songs featured on their various recordings.

Equally at ease with swing, tangos, and waltzes, the Hombres provide plenty of inspiration for dancing, and their free spirit and natural improvisation can win over any audience.

Not just entertaining, their music is ideal for the serious listener, because of their high level of musical ability. In fact, their musicianship is so impressive, the Nashville Chamber Orchestra commissioned their composer in residence, Conni Ellisor, to write a piece incorporating some of the Hombres original songs, melodies and reifs. The result was "Nuage de la Nuit", a twenty-seven minute tribute to the legendary gypsy guitarist Django Reinhardt, featuring the Gypsy Hombres. The performance was broadcast by National Public Radio.
Caravan Tales
9:00pm-12:00am, $10 at the door
From Paris to New York, from Jamaica to Brazil, the jazz of this quartet is colored by the origins and travels of its participants.

Jerome Degey, platinum producer, composer, arranger, and guitarist from Paris also speaks and plays the Brazilian musical language fluently (Kenia, Rolando Faria, Les Etoiles).

From Kingston Jamaica, Keith Jones, just back from his tours with French violinist Jean-Luc Ponty, started his fruitful L.A. career (Santana, Wayne Shorter, Al Jarreau, the Crusaders, Joe Sample) with Brazilian superstar Airto Moreira and Flora Purim.

Grammy Award-winning pianist and accordionist Will Barrow has played, toured, and recorded with an eclectic array of artists including jazz siblings Eloise, Ronnie, and Hubert Laws, the late disco diva Vickie Sue Robinson, R&B singer Freda Payne, Wanda Jackson, BeBe Winans, Karen Parks, Suzy Bogguss and the Gatlin Brothers.

On drums, Nioshi Jackson is a go-to live/tour and session musician in Music City. He has worked with the likes of Michael McDonald, Larry Carlton, Ricky Skaggs, Chester Thompson, Victor Wooten, and many others.

Alayna Renae
5:30pm-7:30pm, $8 at the door
Nashville based vocalist Alayna Renae's contemporary sound reflects the ever-changing fusion of Jazz and Neo-Soul. Alayna creates an atmosphere to transcend you from any situation. Inspired by singers like Ella Fitzgerald and Erykah Badu, she sings from her soul. Whether you hear familiar standards or original compositions, her music portrays where she is in her life journey. She's backed by some of Nashville's most up-and-coming instrumentalists who are sure to inspire you. Alayna is currently working on her first album entitled "Surprising Imagery" to be released early 2019.
Clark Gibson Sextet
8:00pm-11:00pm, $20 at the door
Clark Gibson is a jazz saxophonist, composer and educator former Director of Jazz Studies and Assistant Professor of Saxophone at Northeastern State University. He is a highly sought after adjudicator and clinician throughout the country. His forward-thinking music is strongly rooted in the traditions of jazz musicians of the 20th century, the history of Western classical music, his own life experiences, as well as musical traditions from cultures across the globe.

Clark's professional career began in Denver, Colorado performing popular music genres such as jazz, funk, blues and more. While there, he formed his own group, the Clark Gibson Quartet which was nominated for "Best Jazz Group in Colorado" by Westword Magazine and released his first independently released CD "The Offering". Clark received his Bachelor of Music in jazz at Cornish College of the Arts in Seattle, WA. During his studies, he stayed busy teaching his own private students and performing with such notables as the Temptations, the Four Tops, the Jim Knapp Orchestra, Lalo Rodriguez, Nueve Era, Tombau, the Jim Kerl Big Band and Dina Martin, as well as performing with a host of local masters including Jay Thomas, Greta Matassa, Clarence Acox, Greg Williamson and the Pony Boy All-Star Big Band.

In 2010, Clark recorded his second album "Iapetus," released on Pony Boy Records, which featured his latest original compositions and arrangements. From 2012-2015, Clark completed his masters and doctoral degree at the University of Illinois. During this time, he recorded a third album as a leader self-titled as the "Old Style Sextet". The cd received high reviews and national airplay through BluJazz Records based out of Chicago, IL. In 2015, Clark released Charlie Parker with Strings: The Lost Arrangements through BluJazz Records. The recording is receiving national attention from radio as well as positive reviews in publications such as Down Beat, allaboutjazz.com, the L.A. Jazz Scene and Oklaoma Magazine.

Clark Gibson's upcoming release "Tri-Colored Eyes" is set to be released in early 2019. The album is all original music featuring Euan Edmonds on trombone, Jim Pisano on tenor saxophone, Pat Bianchi on B3 organ and Jeremy Thomas on drums.
Geoff Pfeifer
11:30pm-2:00am, $10 at the door
The Geoff Pfeifer Quartet, gritty, edgy, the real deal NYC style jazz. Saxophonist Geoff Pfeifer brings some of Nashville's top jazz cats out, and you'll be sure to feel the energy. Playing a mix of original material and Wayne Shorter tunes, Pfeifer leads the group.

Geoff Pfeifer, a Nashville based musician and composer, has been living and performing in Nashville since 2005. Geoff studied saxophone with Ted Nash and Ralph Lalama and composition with Mike Holober and Jim McNeely. He is a saxophonist and arranger with the R&B band Chubby and The Dots and plays the 2nd Tenor Saxophone chair in The Establishment Big Band.

Jazz Lunch with Wendy Burns (free admission)
12:00pm-3:00pm, no cover
Come join us for Rudy's new Jazz Lunch show! NO COVER CHARGE and ALL ages welcome during the Lunch show. I'll be singing and fluting some of my favorite Jazz Standards and will be joined by some of Nashville's finest musicians. Rusty Russell, Guitar/ Brad Bietry piano/ Jonah Kraut, Bass/ Robert Crawford, Drums. Rudy's menu features a very yummy Cajun cuisine. Come eat lunch from the Rudy's menu while I sing songs from the Great American Song Book. Authentic cuisine and Classic jazz.
Cliff Richmond & The CliffNotes
5:30pm-7:30pm, $8 at the door
Cliff Richmond & the CliffNotes serve up a unique blend of soulful, swinging & funky jazz, They incorporate a wide range of styles from mainstream jazz, to rhythm & blues, Latin to reggae. Founded by Cliff (guitar & vocals) the CliffNotes always features some of Nashville's most accomplished and versatile musicians and vocalists.

Laura Mayo
8:00pm-11:00pm, $15 at the door
The vocal presence of Laura Mayo represents the divine potential of jazz to move the human spirit. Echoing the tradition of Ella Fitzgerald, Anita O'Day and Keely Smith - she is a conduit to the foundation of the genre, while effortlessly expanding the boundaries of its form.

Born in Memphis, Laura has spent the better of a decade as the vocal ace of Nashville's premier recording studios. Her talents have been featured on national tours, performing with acts such as Cory Chisel and Quinn Deveaux.

Delivering her interpretation of jazz standards, Laura Mayo will be joined by a preeminent collection of Nashville instrumentalists including Matt Endahl (piano), Todd Parks (bass), and Chris Brown (drums).
David Williford
11:30pm-2:00pm, $10 at the door
Woodwind player and composer David Williford was born and raised in Knoxville, TN. Currently residing in Nashville, he works as a performer, composer, and educator. With early musical experiences playing blues, soul, and rock with his father, and studying modern jazz and classical music with artists like Don Aliquo, he has found a diverse and soulful place in the changing music scene. His working band presents original music, free improvisations, and re-imagined standards to Nashville regularly.

Apart from his own projects, David has performed and recorded with a wide variety of artists as a player and arranger. Some highlights include Dynamo, Mike Hicks, The Nashville Jazz Composers Collective, Jeff Coffin, Sory Diabaté, Rick Wilkerson, The Great Barrier Reefs, Charles Butler, Michael Toman, and David Rodgers.

Jazz Brunch with the Jody Nardone Trio
11:00am-2:00pm, $20 at the door
All you can eat buffet and live jazz with the Jody Nardone Trio.

"Thanks to a dynamic style that can shift from the whispered beauty of Bill Evans to the percussive flights of McCoy Tyner, Nardone has emerged as one of Nashville's preeminent jazz pianists. His reputation is also blowing up nationwide, where he is receiving raves in Downbeat and Jazziz for his role in the Crimson Jazz Trio, a Nashville-to-L.A. combo led by former King Crimson drummer Ian Wallace and former Vital Information bassist Tim Landers."

-Michael McCall, Nashville Scene
Cocktail Occasion with Regi Wooten & Brian Cornish
2:00pm-5:00pm, no cover
Enjoy Sunday afternoon flights with the musical virtuoso duo of Regi Wooten, "The Teacha", "Mr. Meditation" Brian Cornish, and special guests. Every Sunday from 2pm-5pm Rudy's offers an array of it's increadible cocktail flights.
The Duffy Jackson Trio
6:00pm-8:30pm, $15 at the door
A true legendary jazz drummer, Jackson is the son of Chubby Jackson, and played drums as a young child making appearances with Count Basie, Duke Ellington, Woody Herman, and Buddy Rich before he finished high school. In 1971 he relocated to Los Angeles, where he played with Monty Alexander, Ray Brown, Herb Ellis, Lena Horne, Milt Jackson, and Barney Kessel. Following a tour of Japan with Benny Carter, he appeared on television for two years with Sammy Davis, Jr. (1974-1976). Later in the 1970s he played with Grover Mitchell and did a tour of Europe with the Count Basie Orchestra.

In the 1980s Jackson worked with Lionel Hampton, Al Jarreau, James Moody, and Sonny Stitt, and in 1985 re-joined the Basie orchestra while Thad Jones was its leader. Following this he worked with Illinois Jacquet and Artie Shaw, then re-joined the Basie Orchestra under Frank Foster. In the 1990s, he relocated to Fort Lauderdale, where he played with Harry Allen, Billy Ross, and the Manhattan Transfer.
Jazz Jam
9:00pm-12:00am, $10 at the door
Rudy's hosts the official pro jazz jam. Come out and experience some of music city's best as they take the stage with Nashville's next generation of jazz performers!

We welcome all ages to this show.

Re-Evolution
6:00pm-8:30pm, $10 at the door
Featuring Brian Cornish on saxophone, Regi Wooten on bass, Nioshi Jackson on drums, Adam Charney on guitar, and Marc Payne on piano. Re-Evolution is heavily influenced by traditional and classic jazz cutting edge artists such as John Coltrane, Miles Davis, Wes Montgomery, Bill Evans, McCoy Tyner, Elvin Jones, Thelonious Monk and many more...
Giovanni Rodriguez & 12 Manos
9:00pm-11:30pm, $10 at the door
Giovanni Rodriguez is an exciting multi-instrumentalist and Nashville favorite on the Salsa and jazz scene. An electric night of Salsa dancing! Ernesto Lago Violin (Cuba) - violin/vocals Alex Rivas (Cuba) - piano/vocals Yosvany Cordero (Cuba) - bongos/cowbell Brian Allen (Indiana) - bass Jesus Agreda (Venezuela) - timbales/drums Giovanni Rodriguez (Dominican Republic) - congas/vocals

Ashley Kimbrough
6:00pm-8:30pm, $10 at the door
Ashley K. began singing professionally from the age of 4, and continued with the Washington Performing Arts Society's Children of the Gospel, where she was afforded opportunities to perform at many venues, including the Kennedy Center Honors, the presidential inauguration ceremonies of William Jefferson Clinton, and to sing "The Impossible Dream" for King Juan Carlos at the opening of the Guggenheim Museum in Bilbao, Spain.
While studying at Western Michigan University, Kimbrough was a member and Assistant Director (during her second year) of Gold Company, one of the top collegiate vocal jazz groups in the nation, under the tutelage of Dr. Steve Zegree. During her time there Gold Company performed at many venues including Jazz at Lincoln Center in New York. Kimbrough and the other five members of the Gold Company sextet, received the Downbeat Award for "Best Graduate Vocal Jazz Performance" in 2012.
She is a full time singer/songwriter of Pop & R&B music, Vocal Coach, Adjunct Professor of Jazz Voice and Assistant Director of MTSU Singers. For more information visit
www.iamashleyk.com
.
Jonathan Wires Quartet w/ Jeff Coffin
9:00pm-11:30pm, $10 at the door
Jonathan Wires is a bassist, composer, and educator. Originally from New Hampshire, Jonathan received his Bachelor of Arts in Music Performance from the University of Memphis. In 2011, he pursued a Master's Degree in Jazz Studies from Middle Tennessee State University, which brought him to Nashville, TN. In addition to performing and composing, Jonathan has been an active educator at both Middle Tennessee State University (MTSU) and Nashville State Community College. Under Jeff Coffin's Ear Up label, Jonathan released his first recording entitled "Weaving" which features Jeff Coffin, Matt Endahl, and Joshua Hunt with guest appearances by Lindsey Miller, Don Aliquo, James Westfall, and Jamey Simmons.

Featuring:
Jonathan Wires - Bass
Matt Endahl - Piano
Adam Davis - Guitar
Jordan Perlson - Drums
and special guest - Jeff Coffin