No reservations, all seating is first come first seated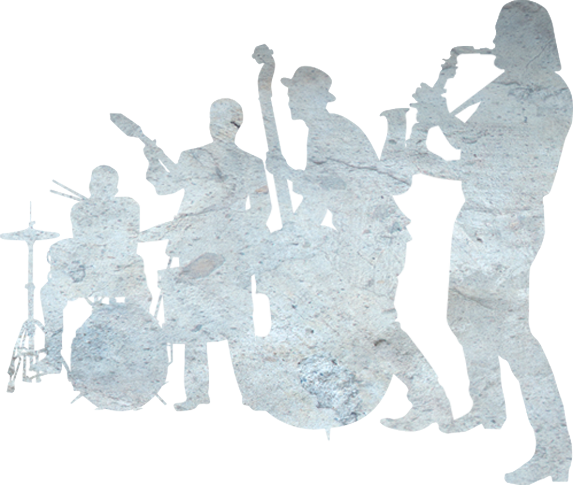 Music City's authentic late night jazz club
Serving classic New Orleans prohibition and pre-prohibition cocktails, local brews, and New Orleans cuisine.
HAPPY HOUR SPECIALS
Mon-Wed 5-7pm, Thurs 5pm-8:30pm
Martini Monday:
1/2 price Martinis, *Salsa night 9-11:30 1/2 price Margaritas, *Service Industry Night - half off select food & drinks
Tuesdays:
Half Price Old Fashioned and Beignets, $2 off all Drafts
Wednesdays Wooten & Wine:
$6 wines / $10 off bottles (Cava, Malbec, Pinot)
Thursdays

(until 8:30pm):
$8 French Quarter inspired cocktails (Sazerac, Lavender Sidecar, French 75) and 1/2 price beignets
Sunday Brunch:
$5 Mimosas and Bloody Mary's & 2pm-5pm $15 cocktail flights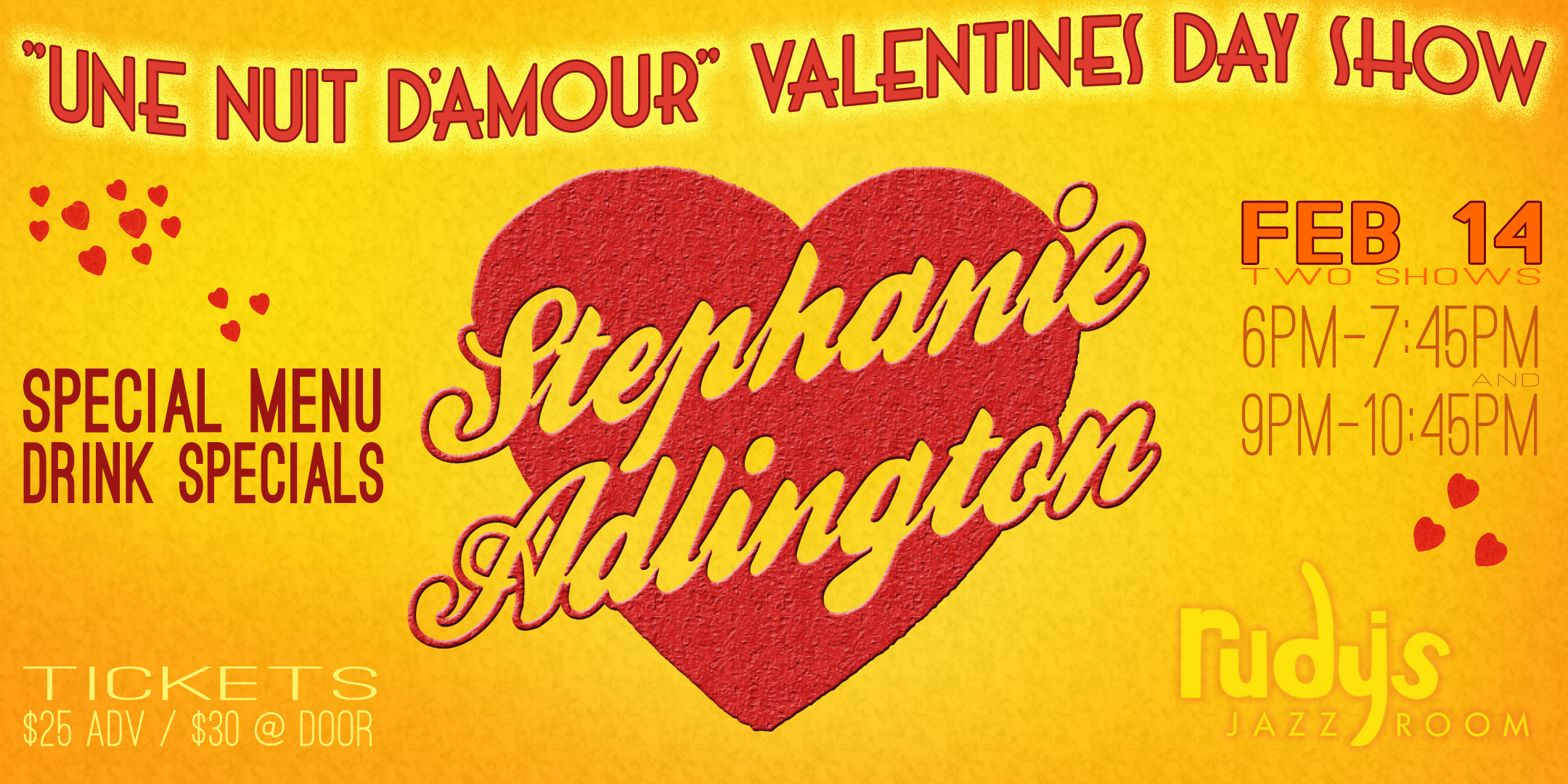 Whether you are single, attached or celebrating with friends this Valentine's Day, we invite you to spend the evening celebrating with not only the ones you adore, but with our greatest love here at Rudy's Jazz Room...the Music!
We are offering a very special night of music, food and drinks in a sultry setting, sure to set your night on fire! Join us with the "Siren Of The South", Miss Stephanie Adlington, while we take you through a musical evening which celebrates all kinds of love!
TONIGHT'S SHOWS
Saturday Showcase w/ Nikki Elias
12:00pm-3:00pm, no cover
Saturday Showcases is our weekly no-cover all ages lunch showcase featuring local bands, educators, young artists and Special guests. Shows are free and all ages are welcome! Join us for lunch and drinks!
Grace & the Victory Riders
5:30pm-7:30pm, $10 at the door
Grace & the Victory Riders combine world flavors and rhythms, where soul-jazz travels the world to spice up the groove. Singer-songwriter and Gold album recording artist Grace Eden Young has been influenced by her travels all over the world; she has lived in Africa, India, Jamaica, North America, and Europe. Her journey eventually brought her to Paris, where she first gained a following.

Jérôme Degey is a platinum producer, composer, arranger, and guitarist from Paris, lives now in Nashville. He has performed internationally in many countries in Europe, Africa, Asia, and the Americas, mixing jazz, world, and soul music.

Charles Treadway is considered the top organist in Nashville. He has played with the finest jazz and blues musicians and beyond in various settings, and is reminiscent of Jimmy Smith, Joey DeFrancesco, Jimmy McGriff, and other greats.

Giovanni Rodriguez is recognized as one of the city's leading percussionists, but he's also an accomplished bassist. No stranger to Nashville fans of jazz and Latin music, he leads the Latin band "12 Manos", is one of three co-leaders of the band "El Movimiento" and is a regular sideman for bands of many different genres.

Drummer Nioshi Jackson moved to Nashville in 1997 and has since then toured with Trisha Yearwood, Michael McDonald, and Ricky Skaggs. He has shared the stage with Richie Sambora, Big & Rich/MuzikMafia, Blake Shelton, Kid Rock and has had the opportunity to open shows for Bon Jovi, John Mellencamp, Smokey Robinson, John Lee Hooker, Luke Bryan, and Jason Aldean.
Jody Nardone Trio
8:00pm-11:00pm, $20 at the door
"Thanks to a dynamic style that can shift from the whispered beauty of Bill Evans to the percussive flights of McCoy Tyner, Nardone has emerged as one of Nashville's preeminent jazz pianists. His reputation is also blowing up nationwide, where he is receiving raves in Downbeat and Jazziz for his role in the Crimson Jazz Trio, a Nashville-to-L.A. combo led by former King Crimson drummer Ian Wallace and former Vital Information bassist Tim Landers."

-Michael McCall, Nashville Scene
Oracle Blue
11:30pm-2:00am, $10 at the door
Oracle Blue is enticingly unequivocal when it comes to genre-branding, marrying musical nostalgia with newfangled soundscapes. Under the banners of Swank-Pop and Alt-Jazz they craft for themselves a realm entirely their own with strong female vocals garnished by multi-instrumentalists in the rhythm and horn sections.

The band's resume includes performances at Montreux, Vienne and Umbria Jazz Festivals, a DownBeat Student Music Award for Outstanding Performance in the Blues/Pop/Rock category, and the honor of being selected through competition by five-time GRAMMY Award winner Lalah Hathaway to open for two performances on her 2018 'Honestly' tour. Their debut album, Gilded Kingdoms, is comprised primarily of original works, and also includes reimaginings of jazz standards "Don't Explain" (Billie Holiday) and "On Green Dolphin Street" (Bronisalw Kaper). Gilded Kingdoms is available on iTunes, Spotify, Amazon, and at OracleBlueBand.com.

Stephanie Adlington
11:00am-2:00pm, $20 at the door
Stephanie Adlington, otherwise known as, "The Siren Of The South", is a working singer, songwriter, actor, and vocal coach. Born and raised in Grafton, WV, Miss Stephanie is a graduate of the prestigious Royal Academy of Music in London, England, and also attended the Eastman School of Music in Rochester, NY, and (pre-college) Carnegie Melon University in Pittsburgh, PA. While in London, Stephanie recorded with the folk-rock band Renaissance, which produced three critically acclaimed international albums. Known for her unique vocal styling, an evening with Miss Stephanie carries her audience back to the prohibition era - a scandalous rendezvous in a wicked speakeasy, where swagger goes and bourbon flows. Her show titled, "The Jazz, Pearls, and Bourbon Review" is a throwback to the glorious days of old school jazz: think top-shelf juke joint meets Southern hospitality. Drink in an infusion of bourbon, Johnny Mercer, Billie Holiday, Patsy Cline, and Fats Waller and you just sidled up to the bar next to, "The Siren Of The South".
Kyle Cox
2:30pm-5:00pm, no cover
Kyle Cox's 3rd full-length album, Perhaps One Day is an ode to the jazz vocal groups of the 30's and 40's. His first self-produced effort seeks to embrace the sounds of The Mills Brothers, Billie Holiday, and the Ink Spots - to write a tribute to the genre and a love letter to the era. What became of it is his most focused and well-crafted collection of recordings yet. Along with a beautiful execution of the recordings, Kyle's show also consists of playful banter & heartfelt storytelling, which make seeing him live a wonderful experience from note to note & everything in between.
The Duffy Jackson Show
6:00pm-8:30pm, $12 at the door
See the fabulous Duffy Jackson Show with some of Nashville's most seasoned jazz professionals every Sunday night at Rudy's Jazz Room, all Ages Welcome!

A true legendary jazz drummer, Jackson is the son of Chubby Jackson, and played drums as a young child making appearances with Count Basie, Duke Ellington, Woody Herman, and Buddy Rich before he finished high school. In 1971 he relocated to Los Angeles, where he played with Monty Alexander, Ray Brown, Herb Ellis, Lena Horne, Milt Jackson, and Barney Kessel. Following a tour of Japan with Benny Carter, he appeared on television for two years with Sammy Davis, Jr. (1974-1976). Later in the 1970s he played with Grover Mitchell and did a tour of Europe with the Count Basie Orchestra.

In the 1980s Jackson worked with Lionel Hampton, Al Jarreau, James Moody, and Sonny Stitt, and in 1985 re-joined the Basie orchestra while Thad Jones was its leader. Following this he worked with Illinois Jacquet and Artie Shaw, then re-joined the Basie Orchestra under Frank Foster. In the 1990s, he relocated to Fort Lauderdale, where he played with Harry Allen, Billy Ross, and the Manhattan Transfer.
Jazz Jam
9:00pm-12:00am, $10 at the door
Rudy's hosts the official pro jazz jam. Come out and experience some of music city's best as they take the stage with Nashville's next generation of jazz performers!

We welcome all ages to this show.

Re-Evolution
6:00pm-8:30pm, $20 at the door
Featuring Brian Cornish on saxophone, Regi Wooten on bass, Nioshi Jackson on drums, Adam Charney on guitar, and Marc Payne on piano. Re-Evolution is heavily influenced by traditional and classic jazz cutting edge artists such as John Coltrane, Miles Davis, Wes Montgomery, Bill Evans, McCoy Tyner, Elvin Jones, Thelonious Monk and many more...
Giovanni Rodriguez & 12 Manos
9:00pm-11:30pm, $20 at the door
Giovanni Rodriguez is an exciting multi-instrumentalist and Nashville favorite on the Salsa and jazz scene. An electric night of Salsa dancing! Ernesto Lago Violin (Cuba) - violin/vocals Alex Rivas (Cuba) - piano/vocals Yosvany Cordero (Cuba) - bongos/cowbell Brian Allen (Indiana) - bass Jesus Agreda (Venezuela) - timbales/drums Giovanni Rodriguez (Dominican Republic) - congas/vocals

Viktor Krauss
6:00pm-8:30pm, $10 at the door
Eclectic composer bassist Viktor Krauss was born in Champaign, IL, in 1969. His youth was spent listening to soundtracks and instrumental music, eventually leading him to the piano and trumpet. After witnessing the power and ominous presence of the double bass at a middle school concert, he found his true calling. Krauss has been a presence in Nashville Tennessee since 1992 with nearly 500 album credits as either a bassist, composer/songwriter or producer. On tour, Viktor has been Lyle Lovett's primary bassist since 1994. Starting with 1996's "Nashville", Krauss began a long tenure with Jazz great Bill Frisell. Other albums with Frisell include "Gone, Just Like a Train", "Good Dog, Happy Man", "East/West" and "Disfarmer." Other artists over his career have included Tom Jones, Shawn Colvin, Sheryl Crow, Carly Simon and Jerry Douglas. In 2015, Viktor, along with Robert Plant, Alison Krauss and Buddy Miller performed at the Kennedy Center honoring the blues/Americana legend, Leadbelly.

In 2004, Krauss recorded his solo debut of his original compositions, Far From Enough featuring an all-star band consisting of Frisell, Jerry Douglas, Steve Jordan, and sister Alison (peaked at No. 6 on the Billboard® Contemporary Jazz Chart). Krauss' second album, II , which featured core band guitarist Dean Parks and drummer Matt Chamberlain emerged three years later. Last year, new duo recording of original material with lever harpist extraordinaire Maeve Gilchrist "Vignette". Primarily instrumental music, Viktor cites that this music could be described as "a soundtrack without a movie with nods to 'jazz and classic rock'." In 2006, Viktor was awarded a fellowship for the prestigious Film Composers' Lab at the Sundance Institute and his film composing credits include music for directors Ken Burns and the late Robert Altman. Viktor's original compositions from his solo recordings are used daily as musical "bumpers" for National Public Radio between programs.

Joining Viktor will be guitarist, Todd Lombardo, drummer, Robert Crawford and Pianist De Marco Johnson.
Rory Hoffman, Alec Newnam & Nate Felty
9:00pm-11:30pm, $10 at the door
Rory Hoffman is a Nashville based multi-instrumentalist. Raised on a small ranch in North Dakota, Rory grew up recording and touring with the family Gospel band. He started teaching himself to play guitar and piano at age 3. By age 5 he was the drummer in the family band. He currently plays over a dozen stringed, keyboard and wind instruments.

Rory has played the Grand Ole Opry numerous times, as a soloist and as a sideman with Ricky Skaggs, Kathy Mattea and John Cowan. Working with these stars and others has enabled him to play several notable festivals, including Telluride with John Cowan, and Djangofest as part of the John Jorgenson quintet. Kacey Musgraves has asked Rory to play on her Christmas album, and to be part of the 2016 tour promoting that release. He has performed in Norway, Italy and Jamaica thus far and deeply enjoys any opportunities to travel the world, experiencing the culture and sharing music. When not out on the road touring, Rory is proud to be in several local Nashville bands, including 50 Shades of Hay, and the Gypsy hombres.

"Just Jazz Guitar" and "Guitar Player" magazines have written feature articles about Hoffman's unique guitar style. Rory is 2-time winner of Musician of the Year from Nashville's ICMA, and is a 2012 inductee into the South Dakota Country Music Hall of Fame.

Alec Newnam
Born in New Jersey to musician parents who worked with the likes of Frank Sinatra, Jimmy McGriff, James Brown, Tony Bennett and Ray Charles, bassist Alec Newnam has lived in Nashville since 2008. His wide-ranging musical studies and interests have led to him being active in the city's many various music scenes. Alec has performed and/or recorded with with Kelsey Waldon, Duffy Jackson, Jim Lauderdale, Marcus Finnie, Trisha Yearwood, Paul Horton, Greg Garing, Jeff Coffin, The Nashville Jazz Duo, and many others.

Nate Felty
Originally from Syracuse, New York, Nate Felty is an experienced live/session drummer and educator who enjoys performing a wide range of musical styles. Nate has been living and working in Nashville, Tennessee since 2012 and earned his Masters in Commercial Music at Belmont University in 2014.

Nate is the drummer for Nashville-based, nationally touring country/roots artist, Kelsey Waldon. With Waldon, he has shared the stage on tour with Grammy Award-winning artists such as Ricky Skaggs & Kentucky Thunder, Marty Stuart and His Fabulous Superlatives, and John Prine.

Since his arrival in Nashville, Nate has performed and recorded with notable touring bands from Nashville. Among these are The Amanda Broadway Band, Abby Anderson, Devon Gilfillian, Marquee Mayfield, and 9-piece funk/fusion Dynamo. While with Dynamo, the group earned Nashville Industry Music Awards (NIMA's) in 2015 for "Best Funk/Fusion Band" and "Album of the Year" for their 2015 release, Find Your Way.

When not on tour, Nate is an adjunct professor of drum set at Sewanee University of the South and performs with The Emerald Empire Band for corporate events. Nate continues to make his imprint on Nashville's local music community, performing with notable musicians such Roy Agee (Prince), Jeff Coffin (Dave Matthews Band), Micah Hulscher (Margo Price), Jay White (Amos Lee, Cory Henry), Mike Hicks (Rascal Flatts), David Rodgers (Keb Mo), De Marco Johnson (Marc Broussard) and Paul Horton (Alabama Shakes).

Ultrafaux Ensemble
6:00pm-8:30pm, $10 at the door
The Ultrafaux Ensemble crosses stylistic boundaries by performing original music rooted in Gypsy Jazz that includes elements of be-bop, Balkan music, Bluegrass, funk, Brazilian choro, and French musette. Ultrafaux has performed at top music festivals and concert halls all over the world both as a trio and as a larger ensemble featuring top musicians from the jazz, bluegrass, folk, classical, and world music scenes. Guitarist/Composer Michael Joseph Harris has led Ultrafaux since 2014, performing at Festival Django Reinhardt in France, Django By The Sea, Django-A-Gogo, Napa Valley Jazz Society, Kennedy Center, Midwest Gypsy Swingfest, Charm City Django Jazzfest, Baltimore Jazzfest, Django Birthday Festival NC, Djangoary at Glen Allen Performing Arts Center VA, and Preston Jazz and Improvisation Festival UK, to name a few. Both Ultrafaux and his other group Hot Club of Baltimore have been featured multiple times on "Django Festival," an annual compilation of the best Gypsy Jazz in the world produced by Jon Larsen.
Regi Wooten & Friends
9:00pm-11:30pm, $12 at the door
Every Wednesday, Regi Wooten assembles a cast of Nashville's best as they dig deep into the roots of funk, jazz, blues, rock, and soul. You never know who might jump on stage! Don't miss a beat!

Hot Club Gypsy Jazz Thursdays w/ The Gypsy Hombres
6:00pm-8:30pm, $10 at the door
Hot Club Gypsy Jazz Thursdays; Rudy's French Connection

Every Thursday we honor our New Orleans and French roots and Rudy's comes alive with a variety of small groups in the Django style of gypsy jazz swing. There's no better place to chill, cozy up and relax after work. Enjoy $8 French Quarter inspired cocktails (Sazerac, Lavender Sidecar, French 75), have a glass of Côtes du Rhône, and enjoy some gumbo or beignets while listening to the rhythm and mood of hot club jazz in Nashville's most intimate and romantic room.

The acoustic violin/guitar based trio, The Gypsy Hombres, blend traditional jazz with European, South American, and classical music to create a sound unlike any other musical group. The Hombres' repertoire embraces a wide variety of composers and styles; from Brahms and Chopin to George Gershwin, Duke Ellington and Louis Armstrong to international folk songs, all while retaining the gypsy spirit. But besides just adding their own arrangements and personalities to standards, they are also accomplished composers with several original songs featured on their various recordings.

Equally at ease with swing, tangos, and waltzes, the Hombres provide plenty of inspiration for dancing, and their free spirit and natural improvisation can win over any audience.

Not just entertaining, their music is ideal for the serious listener, because of their high level of musical ability. In fact, their musicianship is so impressive, the Nashville Chamber Orchestra commissioned their composer in residence, Conni Ellisor, to write a piece incorporating some of the Hombres original songs, melodies and reifs. The result was "Nuage de la Nuit", a twenty-seven minute tribute to the legendary gypsy guitarist Django Reinhardt, featuring the Gypsy Hombres. The performance was broadcast by National Public Radio.
Guthrie Trapp, Steve Mackey & Pete Abbott
9:00pm-12:00am, $15 at the door
Guthrie Trapp is one of Nashville's preeminent guitar talents. He's currently finishing work on a follow-up to his successful solo album, Pick Peace, a 2012 showcase for Trapp's stellar talent that long supported the careers of superstar artists and his own bands. Pick Peace served as a perfect template for Trapp's brilliant mix of musical influences, exploring country, blues, Latin, reggae, jazz, rock and experimental music. The innovative guitarist worked with long-time collaborators on Pick Peace, including bassist Michael Rhodes, percussionist Dann Sherrill, drummers Pete Abbott and Doug Belote, and Reese Wynans, former keyboard player for Stevie Ray Vaughan & Double Trouble, on B-3 organ, most of whom perform regularly with Trapp in live performances throughout Nashville with the Guthrie Trapp Trio, TAR (Trapp, Abbott & Rhodes) and the Nashville supergroup 18 South.

As a member of dobro legend Jerry Douglas' band for five years, Trapp played on two of recordings of the "Muhammad Ali Of Dobro", including "Jerry Christmas" and the Grammy-nominated album Glide, and toured extensively throughout North America and the UK, taking the stage at New York City's Blue Note, Radio City Music Hall, Celtic Connections and the Montreal Jazz Festival. Trapp is a versatile musician who crosses many genres with ease, taste and authenticity. Prior to joining Douglas' crew, he spent several years with revered country artist Patty Loveless, appearing on two studio albums with her including the Grammy-winning Mountain Soul 2. Onstage or in the studio, Trapp has supported the world's most talented and best-selling artists including Garth Brooks, John Oates, Trisha Yearwood, Vince Gill, Travis Tritt, Dolly Parton, Tim O'Brien, Delbert McClinton, Randy Travis, George Jones, Alison Krauss, Sam Bush, Tony Rice, Earl Scruggs, Lyle Lovett, Rosanne Cash, "Cowboy" Jack Clement and many others.

Trapp was surrounded by music during his youth on the Florida/Alabama coast. His family exposed him to numerous genres. By age seven, Trapp had taken up harmonica, by age 10, he had graduated to guitar, later adding mandolin to his musical resume. Joining his first band at age 13, he was a regular performer at the clubs, festivals and events throughout the Gulf Coast region. At ages 15 and 16, Trapp won consecutive statewide guitar and mandolin competitions in Alabama. At age 18, Trapp travelled to Nashville to record on Gove Scrivenor's album, Shine On, which also featured John Prine, Nanci Griffith, Lari White and Ray Flacke. Also a young adult, he teamed up with Nick Branch to form the popular band Filthy Rich, touring throughout the US and France.

Trapp eventually settled in Nashville in 2001, paying early dues with the heralded Don Kelley Band at the famed honky-tonk Robert's Western World. He made his way to Music Row, where one of his first master sessions was playing mandolin alongside industry staples Willie Weeks, Ian Wallace and Tim Hinkley. He's never looked back, expanding his resume to include participation as one of the most in-demand performers on the popular Artist Works instructional website, serving as music consultant got the "Nashville" television show, record-producing (singer Rylie Bourne's debut album) and hosting weekly both a talk-show on Acme Radio and a live-music evening at Acme Feed & Seed, one of Nashville's hottest venues.

Charles Wigg Walker
5:30pm-7:30pm, $10 at the door
Join Rudy's for the return of our Friday happy hour soul and jazz series with Charles "Wigg" Walker, Nashville's original soul singer, and his six piece band and horn section. Born in Nashville, Tennessee on July 12, 1940, Charles "Wigg" Walker is one of the few remaining original soul singers from back in the day when old school R&B/soul was brand new on the music scene. Wigg's experience and maturity in the field of soul music gives him authenticity and perspective that is unmatched.

In 1960, Charles moved to New York City and in 1962 Charles began recording with Chess Records out of Chicago, Charles soon signed on as lead singer with the J.C. Davis Band and began touring the country opening for the greats of the era including James Brown, Jackie Wilson, Etta James, Wilson Pickett, Little Willie John, Otis Redding, and Sam Cooke. The J.C. Davis Band recorded some real barnstormers for Chess like "Sweet Sweet Love" and "The Chicken Scratch." In 1964, Charles formed his own group, Little Charles and the Sidewinders. They became one of the most in demand soul bands in New York City's nightclub scene, performing at the Apollo Theater, Small's Paradise and venturing out to Las Vegas and Atlantic City. They subsequently recorded for Chess and Decca labels. The Sidewinders stayed together through the 60's, and in 1969 Charles cut some sides for Botanic Records. The Sidewinders reformed in 1973 and worked as a show band in hotels, nightclubs, and casinos without the benefit of a recording contract. In 1979, Charles signed on with Motown as a staff writer.

With a resurgence of old school soul and R&B Wigg is finding his groove with a younger audience while rekindling memories for the old school crowd.
Connye Florance
8:00pm-11:00pm, $20 at the door
Singer songwriter legend Leon Russell (This Masquerade, A Song for You) refered to Connye Florance as "Velvet and Wine". Connye's deliciously smooth jazz vocals won her accolades as Jazz Discovery's "Vocalist of the Year" in 2000, just after her 1999 independent release Turn My Heart won a Nashville Grammy nomination for Album of the Year. Her music has gained international attention from jazz fans and adult contemporary listeners alike.

Connye's dynamic delivery and creamy-rich style have delighted countless audiences, from nightclub and theater performances on and off Broadway to headline and featured appearances at area jazz festivals and venues, alongside such notables as Steinway artist Beegie Adair, master trumpeter Randy Brecker, saxophonist Kirk Whalum, The Nashville Jazz Orchestra, and with her regularly stellar ensemble of musicians. Critics consistently call Connye's style "warm... captivating" and "like French silk pie; rich and delicious". Her fans simply call her "the real deal".
Nikki Elias and the Cosmic Collective
11:30pm-2:00am, $10 at the door
The Cosmic Collective covers multiple styles of music; from Jazz and Bossa nova to Pop, R&B, Funk, and Motown. The group boasts a range of accomplishments, including house dance band at The Grand Hotel in Mackinac Island, MI and a feature on Greg Pogue's Jazz Station on ACME Radio.

The band consists of formally trained musicians active in the Nashville area, vocalist Nikki Elias, bassist Tyler Enslow, Drummer Jed Smith, Keyboardist Jeff Goodkind, and saxophonist DeVante' Buford.

Their new electric jazz album, Abstract Notions, sports a feature from Jeff Coffin of Béla Fleck & The Flecktones and David Matthews Band, and is currently available on iTunes, Spotify, Amazon, and CD Baby.

Saturday Showcase w/ Paulo Oliveira Trio
12:00pm-3:00pm, no cover
Saturday Showcases feature local bands comprised of some of Nashville's finest educators, with special guests sitting in each week. Shows are free and all ages are welcome! Join us for lunch and drinks!
Colleen Orender Single Release Show
5:30pm-7:30pm, $10 at the door
Nashville Recording Artist Colleen Orender's new music is a sultry jazz dream with pop sensibilities and a touch of James Bond. A touring jazz and blues artist for decades, Orender turns your hometown venues into smoldering 1930's Mississippi juke joints. She teamed up with Michael Davey in Nashville to produce her new sound that many are comparing to Amy Winehouse with Julie London's essence. Her second single "The Mouth You Feed" made NPR's Slingshot list in 2019. Her latest single "The Company of Older Men" was added by Apple Music to it's "New Music Daily" playlist after her second day of release.
Joseph Wooten and The Hands Of Soul
8:00pm-11:00pm, $20 at the door
Joseph Wooten, aka "Hands of Soul" is one of the talented Wooten Brothers and since 1993 is the current keyboardist/vocalist for the Rock & Roll Hall of Fame inductee Steve Miller Band. Joseph is also a talented songwriter, motivational speaker, composer, and producer and recently added author to his resume with the release of his new book, "It All Matters", available on Amazon.

Joseph is a master of many styles. Jazz, soul, funk, R&B... Be prepared for an enjoyable musical journey. You will listen... And you will dance too!
Geoff Pfeifer
11:30pm-2:00am, $10 at the door
The Geoff Pfeifer Quartet, gritty, edgy, the real deal NYC style jazz. Saxophonist Geoff Pfeifer brings some of Nashville's top jazz cats out, and you'll be sure to feel the energy. Playing a mix of original material and Wayne Shorter tunes, Pfeifer leads the group.

Geoff Pfeifer, a Nashville based musician and composer, has been living and performing in Nashville since 2005. Geoff studied saxophone with Ted Nash and Ralph Lalama and composition with Mike Holober and Jim McNeely. He is a saxophonist and arranger with the R&B band Chubby and The Dots and plays the 2nd Tenor Saxophone chair in The Establishment Big Band.