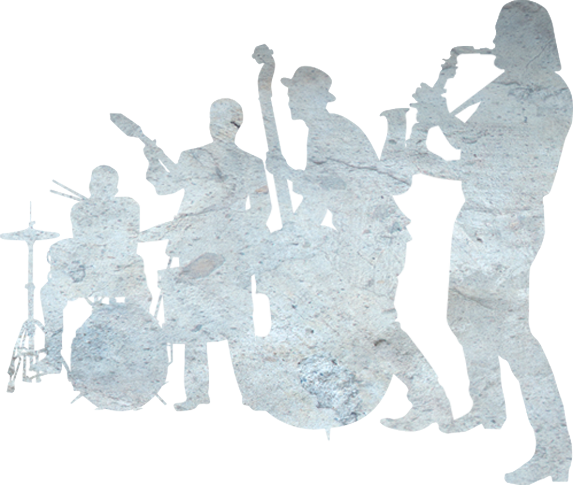 Music City's authentic late night jazz club
Serving classic New Orleans prohibition and pre-prohibition cocktails, local brews, and New Orleans cuisine.
HAPPY HOUR SPECIALS
Mon-Wed 5-7pm, Thurs 5pm-8:30pm
Martini Monday:
1/2 price Martinis, *Salsa night 9-11:30 1/2 price Margaritas, *Service Industry Night - half off select food & drinks
Tuesdays:
Half Price Old Fashioned and Beignets, $2 off all Drafts
Wednesdays Wooten & Wine:
$6 wines / $10 off bottles (Cava, Malbec, Pinot)
Thursdays

(until 8:30pm):
$8 French Quarter inspired cocktails (Sazerac, Lavender Sidecar, French 75) and 1/2 price beignets
Sunday Brunch:
$5 Mimosas and Bloody Mary's & 2pm-5pm $15 cocktail flights
TONIGHT'S SHOWS
Les Sabler
5:30pm-7:30pm, $10 at the door
The Montreal native and established recording artist made his home in Nashville five years ago and is is making his debut performance at Rudy's Jazz Room.
Les' seventh CD Jobim Tribute has been well received by critics and radio. Reaching #1 on Amazon Brazilian Jazz and Latin Jazz best sellers and #36 Latin Music one week after its release.

"Like the artists that influenced me most I set out to blend a variety of styles while balancing art and technique." said Sabler. His catalogue reflects this outlook and direction and his performances demonstrate an eclectic mix of passion and energy.

"Sabler's playing is dynamic like John Scofield's, melodic like George Benson's and compelling like Jeff Beck's. But Sabler's sound is not just a conglomeration of his influences, his playing is clearly and refreshingly his own." • Phil Matlock / MAC

"Les Sabler has created an irresistible recording that crosses the boundaries between genres. Antonio Carlos Jobim would be pleased." • Scott Yanow / Jazz Times, Jazziz, Downbeat

"Les Sabler delivers a winner on Jobim Tribute as he salutes and remembers a man and his music with a measure of taste and a touch of class, on one of the most compelling and engaging tribute albums to a legend." Edward Blanco / AllAboutJazz.com

"Les sounds great playing and singing these gems. While the source of this music is Brazilian, he's made them more Latin in feel, which is refreshing. I like his voice in the baritone range – and extra kudos for singing (at times) in Portuguese!" • Robert Lamm / Chicago

"a shimmering guitar style that is sleek, chic and sexy." • Steve Persall / Players Magazine

"Les' jazz guitar work is incredible." • Troy Vanliere / CCM

You really make my Electric Nylon guitar SING!" • Roger Sadowsky, Sadowsky Guitars

Long recognized as possessing the magic formula for top notch contemporary jazz, Les Sabler has come roaring back with his brand new single 'In The Light'. It is the kind of easy grooving number that succinctly demonstrates exactly what Sabler is all about. • Dennis Poole

The place, where virtuosity meets emotion." • Hans-Bernd Hulsman / www.smooth-jazz.de
Jody Nardone Trio
8:00pm-11:00pm, $20 at the door
"Thanks to a dynamic style that can shift from the whispered beauty of Bill Evans to the percussive flights of McCoy Tyner, Nardone has emerged as one of Nashville's preeminent jazz pianists. His reputation is also blowing up nationwide, where he is receiving raves in Downbeat and Jazziz for his role in the Crimson Jazz Trio, a Nashville-to-L.A. combo led by former King Crimson drummer Ian Wallace and former Vital Information bassist Tim Landers."

-Michael McCall, Nashville Scene
Geoff Pfeifer
11:30pm-2:00am, $10 at the door
The Geoff Pfeifer Quartet, gritty, edgy, the real deal NYC style jazz. Saxophonist Geoff Pfeifer brings some of Nashville's top jazz cats out, and you'll be sure to feel the energy. Playing a mix of original material and Wayne Shorter tunes, Pfeifer leads the group.

Geoff Pfeifer, a Nashville based musician and composer, has been living and performing in Nashville since 2005. Geoff studied saxophone with Ted Nash and Ralph Lalama and composition with Mike Holober and Jim McNeely. He is a saxophonist and arranger with the R&B band Chubby and The Dots and plays the 2nd Tenor Saxophone chair in The Establishment Big Band.

Saturday Showcase w/ Anthony Belfiglio Trio feat. Sara Hunsicker & Natalie Merrill
12:00pm-3:00pm, no cover
Saturday Showcases feature local bands comprised of some of Nashville's finest educators, with special guests sitting in each week. Shows are free and all ages are welcome! Join us for lunch and drinks!

Anthony Belfiglio is a pianist, educator, and composer with a passion for improvisation, enchanting melodies, and rhythmic experimentation. Originally from Philadelphia, he now resides in Nashville where he performs regionally and teaches at Belmont University. Anthony has had the good fortune to perform with many legendary jazz artists including Danny Gottlieb, Duffy Jackson, Chester Thompson, Gene Perla, Brian Bromberg, Jeff Coffin, Dave Douglas, Branford Marsalis, Kenny Garrett, and Steve Turré. Drawing from such genres as jazz, funk, rock, classical, and Latin music, Anthony uses his diverse musical interests and background to explore new musical territory and reach and inspire new audiences.

Sara Hunsicker
Pianist and composer, Sara Hunsicker is a third year student at Belmont University in Nashville, Tennessee, where she will graduate with a bachelor of music in commercial music with a composition and arranging emphasis. She is trained in both classical and jazz piano styles. She also composes and arranges music for piano as well as for band and orchestra. She currently teaches private lessons in the Nashville area, offering lessons in both piano and music theory.

Natalie Merrill
Natalie Merrill is a songwriter, artist, and pianist from Colorado Springs that recently moved to Nashville, Tennessee. Growing up, Natalie spent most of her time
playing classical music and church music. She began writing her own tunes at the age of 10, and continues to write, lead worship, and play in several Nashville-based R&B and jazz bands as she studies commercial piano at Belmont University. Her EP (Where Soul Meets the Sound) combines several musical genres to create a style all her own. After releasing the single "Burn Every Ship," Natalie began work on a full album that is set to release in the spring of 2020.
Shaun Munday
5:30pm-7:30pm, $5 at the door
Shaun Munday is a one-of-a kind talent. He blends soul-drenched vocals with show-stopping bass guitar technique. Shaun captures audiences with a full band sound and plays the bass better than most people play a guitar.

He is a graduate of the Berklee School of Music in Boston, MA where he studied and performed with some of the greatest artists and educators in the industry including John Mayer, Esperanza Spalding, Matthew Garrison (Herbie Hancock), Antonio Sanchez (Pat Metheny) and Jetro Da Silva (Whitney Houston).

Shaun has shared the stage with Corinne Bailey Rae, Andra Day, Mary Wilson of The Supremes, blues legend Robert Cray, reggae royalty Aston Barrett and The Wailers (Bob Marley's band), country music star Collin Raye, Devon Allman and Yonrico Scott of the Royal Southern Brotherhood. His overall music style is inspired by Donny Hathaway, Al Green and Marvin Gaye.

Shaun released his self-titled debut album in March 2017 to rave reviews. Bass Player Magazine said, "Munday proves that he's going to be a bass heavyweight, as his flawless slap work and his melodically challenging lines are only ever outshined by his buttery crooning."
Kenneth Brown
8:00pm-11:00pm, $20 at the door
Son of former Art Blakey band member, Stax recording artist, and three-time Grammy-nominated producer, Donald Brown, Kenneth Brown grew up in a musical family and gained early exposure to every type of music. He started playing drums at age three and soon after, began studying piano to gain a harmonic foundation in the music. By age fourteen, Brown had established himself as a gigging music and has since maintained a steady career within the genres of jazz, R&B, blues, funk, and rock. Throughout his career, Brown has appeared at numerous clubs and festivals, including the Sunside Club (Paris, France) and the Jazz En Tete Festival (Clermont-Ferrand, France). In 2014, he performed at the Duc Des Lombard Club (Paris, France), Colmar Festival (Colmar, France) and the Monterrey Jazz Festival in Monterrey, CA. He has also appeared on Donald Brown's last 2 recording which featured Kenny Garrett, Ravi Coltrane, Bob hurst, Essiet Essiet, Lionel Loueke, Steve Nelson, and more. He recently recorded his debut album entitled "3Down". The album features Jeremy Pelt, Greg Tardy, Keith Brown, and Daryl Hall on bass, among others. Kenneth currently lives in Knoxville Tn where he continues to gig and teach.

Kenneth Brown on drums
Taber Gable on keys
Will Boyd on sax
Rod Mcgaha on trumpet
Jerry Navarro on bass
Oracle Blue
11:30pm-2:00am, $10 at the door
Oracle Blue is enticingly unequivocal when it comes to genre-branding, marrying musical nostalgia with newfangled soundscapes. Under the banners of Swank-Pop and Alt-Jazz they craft for themselves a realm entirely their own with strong female vocals garnished by multi-instrumentalists in the rhythm and horn sections.

The band's resume includes performances at Montreux, Vienne and Umbria Jazz Festivals, a DownBeat Student Music Award for Outstanding Performance in the Blues/Pop/Rock category, and the honor of being selected through competition by five-time GRAMMY Award winner Lalah Hathaway to open for two performances on her 2018 'Honestly' tour. Their debut album, Gilded Kingdoms, is comprised primarily of original works, and also includes reimaginings of jazz standards "Don't Explain" (Billie Holiday) and "On Green Dolphin Street" (Bronisalw Kaper). Gilded Kingdoms is available on iTunes, Spotify, Amazon, and at OracleBlueBand.com.

Jazz Brunch with The Tyler Bullock Group
11:00am-2:00pm, $20 at the door
All you can eat buffet and live jazz with the Tyler Bullock Group

Tyler Bullock is a 16 year old up-and-coming jazz pianist raised in Nashville, Tennessee. He holds the first chair in piano at the Tennessee All State Jazz Band and was recently selected to perform with the Berklee Global Jazz Institute at the Newport Jazz Festival this summer. Tyler incorporates the improvisational styles of Kenny Barron and Herbie Hancock into his playing, and he has studied with local pianists such as Jody Nardone, Lori Mechem, and Bruce Dudley. He will be performing with Griffin Photoglou on drums and Jack Aylor on bass.
Cocktail Occasion w/ Regi Wooten & Brian Cornish
2:30pm-5:00pm, no cover
Enjoy Sunday afternoon cocktail flights from 2pm-5pm. This Sunday we have the musical virtuoso duo of Regi Wooten, "The Teacha", "Mr. Meditation" Brian Cornish, and special guests. Every Sunday from 2pm-5pm Rudy's offers an array of it's incredible cocktail flights.
The Duffy Jackson Show
6:00pm-8:30pm, $15 at the door
A true legendary jazz drummer, Jackson is the son of Chubby Jackson, and played drums as a young child making appearances with Count Basie, Duke Ellington, Woody Herman, and Buddy Rich before he finished high school. In 1971 he relocated to Los Angeles, where he played with Monty Alexander, Ray Brown, Herb Ellis, Lena Horne, Milt Jackson, and Barney Kessel. Following a tour of Japan with Benny Carter, he appeared on television for two years with Sammy Davis, Jr. (1974-1976). Later in the 1970s he played with Grover Mitchell and did a tour of Europe with the Count Basie Orchestra.

In the 1980s Jackson worked with Lionel Hampton, Al Jarreau, James Moody, and Sonny Stitt, and in 1985 re-joined the Basie orchestra while Thad Jones was its leader. Following this he worked with Illinois Jacquet and Artie Shaw, then re-joined the Basie Orchestra under Frank Foster. In the 1990s, he relocated to Fort Lauderdale, where he played with Harry Allen, Billy Ross, and the Manhattan Transfer.
Jazz Jam
9:00pm-12:00am, $10 at the door
Rudy's hosts the official pro jazz jam. Come out and experience some of music city's best as they take the stage with Nashville's next generation of jazz performers!

We welcome all ages to this show.

Re-Evolution
6:00pm-8:30pm, $10 at the door
Featuring Brian Cornish on saxophone, Regi Wooten on bass, Nioshi Jackson on drums, Adam Charney on guitar, and Marc Payne on piano. Re-Evolution is heavily influenced by traditional and classic jazz cutting edge artists such as John Coltrane, Miles Davis, Wes Montgomery, Bill Evans, McCoy Tyner, Elvin Jones, Thelonious Monk and many more...
Giovanni Rodriguez & 12 Manos
9:00pm-11:30pm, $10 at the door
Giovanni Rodriguez is an exciting multi-instrumentalist and Nashville favorite on the Salsa and jazz scene. An electric night of Salsa dancing! Ernesto Lago Violin (Cuba) - violin/vocals Alex Rivas (Cuba) - piano/vocals Yosvany Cordero (Cuba) - bongos/cowbell Brian Allen (Indiana) - bass Jesus Agreda (Venezuela) - timbales/drums Giovanni Rodriguez (Dominican Republic) - congas/vocals

David Williford
6:00pm-8:30pm, $10 at the door
Woodwind player and composer David Williford was born and raised in Knoxville, TN. Currently residing in Nashville, he works as a performer, composer, and educator. With early musical experiences playing blues, soul, and rock with his father, and studying modern jazz and classical music with artists like Don Aliquo, he has found a diverse and soulful place in the changing music scene. His working band presents original music, free improvisations, and re-imagined standards to Nashville regularly.

Apart from his own projects, David has performed and recorded with a wide variety of artists as a player and arranger. Some highlights include Dynamo, Mike Hicks, The Nashville Jazz Composers Collective, Jeff Coffin, Sory Diabaté, Rick Wilkerson, The Great Barrier Reefs, Charles Butler, Michael Toman, and David Rodgers.
Clinically Speaking / Crazy People Dance Party
9:00pm-11:30pm, $15 at the door
9pm-9:50pm: Cage Free (Kiran Gupta, Val Lupescu and Daniel Cox)
10pm-11:30pm: Clinically Speaking (Brian Allen and Wes Little)
Crazy People Dance Party is the result of two talented instrumentalists who decide to take matters into their own hands. Their debut record, Clinically Speaking, indulges the creative and eccentric style of Nashville's hippest rhythm section—bassist Brian Allen and drummer Wes Little. Celebrated by a performance at Rudy's Jazz Room in Nashville, the record will be released on all streaming services and in physical form on September 24th, 2019.
Showcasing their extensive musical knowledge and technical mastery, the album features eleven original compositions that take the listener on a journey marked by syncopated funk rhythms, playful odd-meter grooves, and lyrical solos.
"While we were on the road with Robben Ford, we started coming up with grooves during sound check. We would record them on our phones and revisit the ideas during writing sessions," mentions Little. "When we got in the studio, Brian would have his bass in hand and I would accompany on keyboards. Then, we'd record drum tracks, overdub guitar parts and percussion, and eventually invite some of our favorite players to join us. This record is a great example of the work that we've done together—we're extremely proud of it."
With the help of guests including Ford, Jeff Coffin, and Guthrie Trapp, among others, the record is full of surprises, quirks, and catchy melodies that may even inspire your grandma to get down and dance. It's undeniably funky undercurrent gives Allen and Little the freedom to stretch as soloists while blending genres and integrating a diverse sonic palette.
"We come from similar backgrounds, ones that are steeped in the tradition of jazz, funk, and R&B, but have worked to become as versatile as possible. In the case of "Gringo Montuno," we stay authentic to the Latin style, even though we primarily make our living off of other music," says Allen.
When they're not working as a unit, their respective touring and recording credits include Stevie Wonder, Sting, Dolly Parton, Jason Isbell, Sturgill Simpson, Jonathan Davis, Warren Haynes, John Scofield, Larry Carlton, Miranda Lambert, Thomas Rhett, and Joe Nichols, among others.
Following the release of Clinically Speaking, Allen and Little plan to embark on a series of clinics and educational programs that focus on musicality, professionalism, and excelling as a rhythm section. "Brian and I understand how to make a rhythm section work on both a personal and musical level, which is quite rare," claims Little. "We look forward to sharing our respective insights in a practical and educational manner."
More information can be found on their website,
clinicallyspeakingmusic.com
.
Additional Websites and Links:
Weslittle.com
,
brianallen.com
Facebook:
facebook.com/weslittle
facebook.com/brianallen
Instagram: @weslittledrums_weslove @brianonbass16

Halfbrass
6:00pm-8:30pm, $10 at the door
Halfbrass is Nashville's own funky brass band! Born under the influence of classic New Orleans tradition, Halfbrass mixes traditional brass band music with funk, jazz and rock. In its first year, Halfbrass was named a "Top 5 Local Band" by The Nashville Rage.
Halfbrass' core members are Kevin Rimmer (trumpet), Chris West (saxophone), Oscar Utterstrom (trombone), Neil Konouchi (tuba), and Justin Amaral (drums).

Since their debut in 2002, Halfbrass has continued to deliver their sound to audiences across the country. The band is a hit at events such as weddings, parties, corporate functions, and even backyard crawfish boils. They have performed for groups including The Food Network, The Nashville Roller Girls, Tomato Art Fest, ASCAP, Berklee College of Music, and Vanderbilt University.

Halfbrass has recorded and played with national & local artists including Big Bad Voodoo Daddy, Charlie Peacock, Bekka Bramlett, Old Union, and many others.

When you're ready to party, Halfbrass is there. "Laissez les bon temps rouler!"


Regi Wooten & Friends
9:00pm-11:30pm, $12 at the door
Every Wednesday, Regi Wooten assembles a cast of Nashville's best as they dig deep into the roots of funk, jazz, blues, rock, and soul. You never know who might jump on stage! Don't miss a beat!

Hot Club Gypsy Jazz Thursdays; Rudy's French Connection
6:00pm-8:30pm, $10 at the door
Hot Club Gypsy Jazz Thursdays; Rudy's French Connection

Every Thursday we honor our New Orleans and French roots and Rudy's comes alive with a variety of small groups in the Django style of gypsy jazz swing. There's no better place to chill, cozy up and relax after work. Enjoy $8 French Quarter inspired cocktails (Sazerac, Lavender Sidecar, French 75), have a glass of Côtes du Rhône, and enjoy some gumbo or beignets while listening to the rhythm and mood of hot club jazz in Nashville's most intimate and romantic room.
Elias/Enslow 5tet
9:00pm-12:00am, $10 at the door
Elias/Enslow 5tet consists of Nikki Elias, Tyler Enslow, Marc Widenhofer, Jeff Goodkind and Don Aliquo. The groups influences consist of Joe Henderson, Chick Corea, Sarah Vaughan, Bill Evans Trio and more. This new and exciting group forged of some of Nashville's top local jazz cats cultivates and creates a rare musical experience.

Cliff Richmond & The CliffNotes
5:30pm-7:30pm, $8 at the door
Cliff Richmond & the CliffNotes serve up a unique blend of soulful, swinging & funky jazz, They incorporate a wide range of styles from mainstream jazz, to rhythm & blues, Latin to reggae. Founded by Cliff (guitar & vocals) the CliffNotes always features some of Nashville's most accomplished and versatile musicians and vocalists.

Gregory Tardy w/ Mark Boling, Roger Spencer & Griffen Photoglou
8:00pm-11:00pm, $20 at the door
"Truly an awesome leader-performer and you'll revel in his inventiveness and finesse." -Jazz & Blues Report Saxophonist, multi-reedist, and composer Gregory Tardy is one of the most versatile jazz musicians of his generation, equally comfortable in a variety of musical and improvisational situations. Born into a musical family, he began his musical career studying classical clarinet. In his early 20s, while preparing for a symphony career he discovered jazz saxophone and hasn't looked back. In 1992, he started playing with the legendary drummer, Elvin Jones, and he recorded his first CD, Crazy Love. As a sought after sideman he has played with many prominent jazz artists including: Andrew Hill, Tom Harrell, Dave Douglas, Wynton Marsalis, Jay McShann, Nicholas Payton, Roy Hargrove, Steve Coleman, Betty Carter, Don Byron, Bill Frisell, Rashied Ali , Ellis Marsalis, Brian Lynch, John Patitucci, and many more. He has also performed and/or recorded along with many other notable saxophonists, such as Joe Lovano, Mark Turner, Chris Potter, Dewey Redman, Ravi Coltrane, and others. In more recent years, Tardy has gone full circle, by focusing on his clarinets more, using them on recordings by Tom Harrell, Ohad Talmor/Steve Swallow, Stefan Harris, Chris Potter and Andrew Hill. His performance schedule has taken him all over the world, playing at all of the major jazz festivals and on some of the biggest stages in jazz. As a sideman, he has been featured on several Downbeat Albums of the Year and also several Grammy nominated recordings; including a Grammy winning CD with Brian Lynch in 2006. He also has recorded fourteen CDs under his own name featuring his unique compositions, blending his love of traditional jazz with a more modern seeking style. His latest release "Chasing After The Wind" was released in the fall of 2016.
Geoff Pfeifer
11:30pm-2:00am, $10 at the door
The Geoff Pfeifer Quartet, gritty, edgy, the real deal NYC style jazz. Saxophonist Geoff Pfeifer brings some of Nashville's top jazz cats out, and you'll be sure to feel the energy. Playing a mix of original material and Wayne Shorter tunes, Pfeifer leads the group.

Geoff Pfeifer, a Nashville based musician and composer, has been living and performing in Nashville since 2005. Geoff studied saxophone with Ted Nash and Ralph Lalama and composition with Mike Holober and Jim McNeely. He is a saxophonist and arranger with the R&B band Chubby and The Dots and plays the 2nd Tenor Saxophone chair in The Establishment Big Band.