Come join us at Rudy's Jazz Room for an Old Fashioned Christmas, featuring the "Siren of the South" Miss Stephanie Adlington! Celebrate the season with some spectacular live jazz including favorite Holiday standards and a collection of old New Orleans Christmas classics. Indulge in one of our seasonal Old Fashioned cocktails while enjoying a delicious New Orleans inspired holiday menu.
Take joy in the most wonderful time of the year with an Old Fashioned Christmas and some classic holiday jazz at Rudy's Jazz Room!
Purchase tickets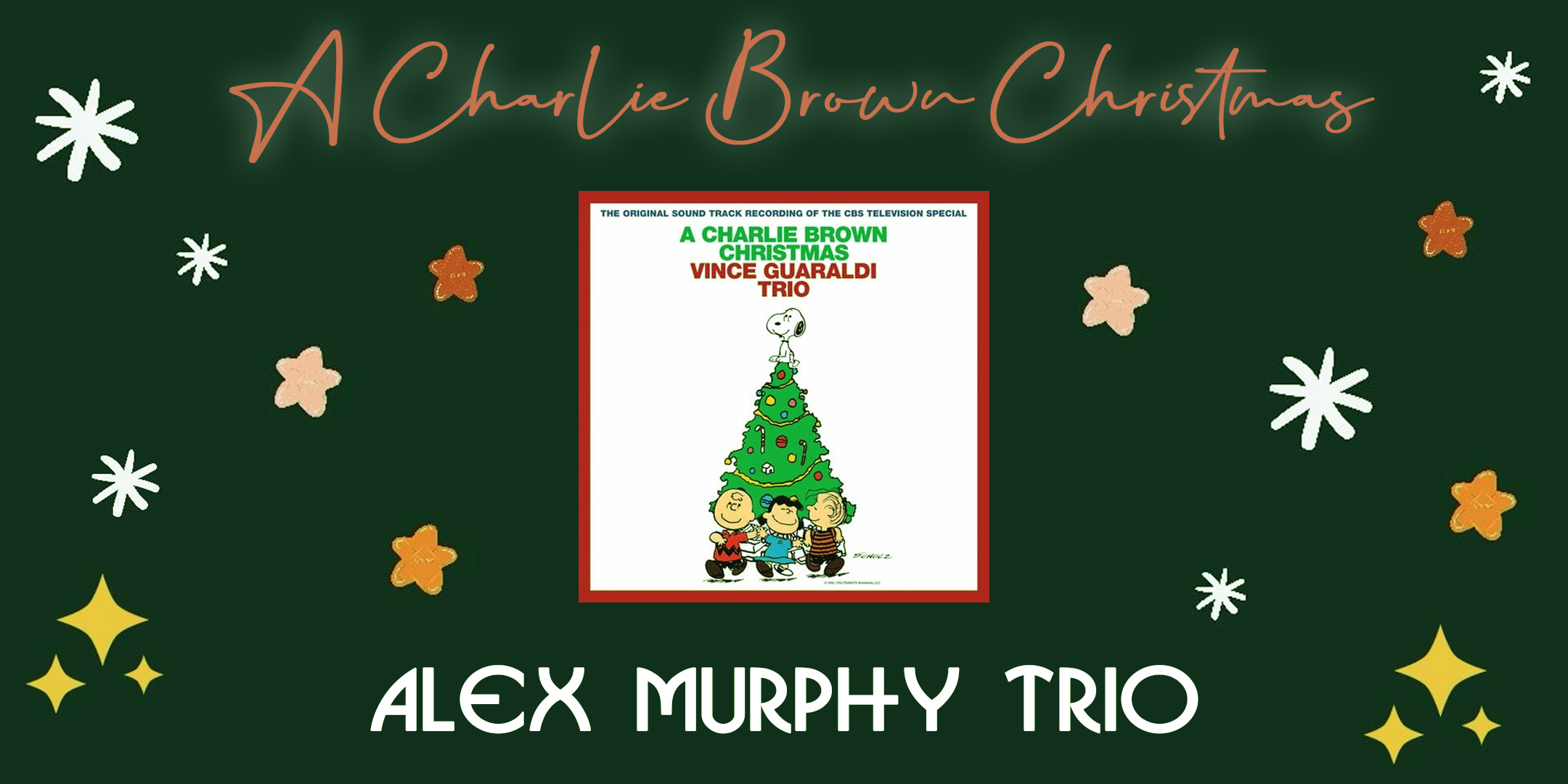 A Charlie Brown Christmas with The Alex Murphy Trio
The Charlie Brown Christmas Special is an American cultural icon, and is synonymous with the holiday season. The music, characters, and message have resonated since it's airing in 1965 and the soundtrack is praised due to the scoring and playing of the fantastic jazz pianist Vince Guaraldi. Without Vince's touch we wouldn't have this American classic.
Join the Alex Murphy Trio for an evening enjoying the Charlie Brown Christmas Special soundtrack played live.
Select a Show Date & Purchase tickets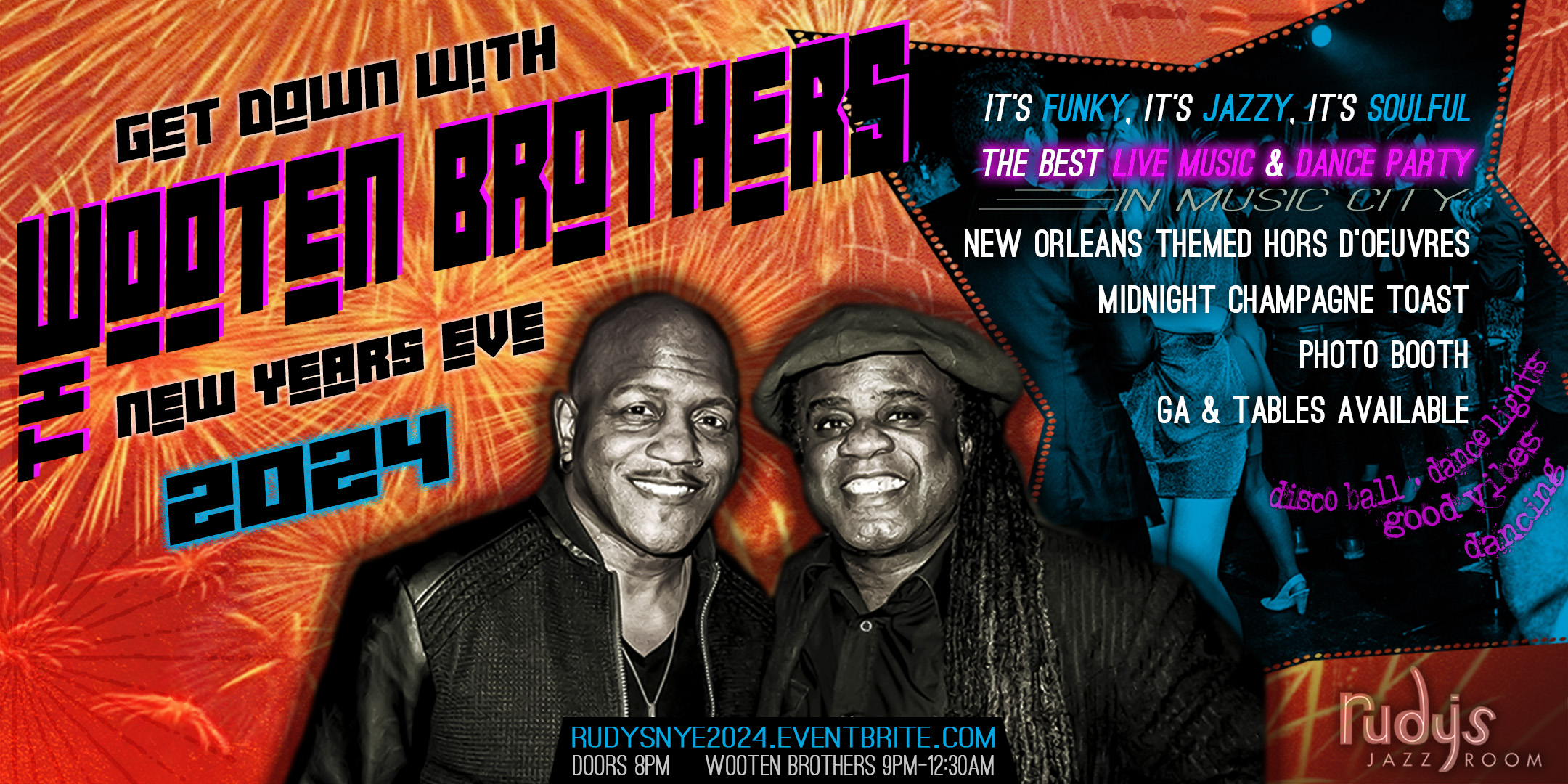 New Years Eve "The Get Down" with the Wooten Brothers!
Celebrate New Years Eve at Rudy's Jazz Room with "The Get Down" and the Wooten Brothers! Dancing and live music with The Wooten Brothers, New Orleans themed hors d'oeuvres, champagne for the midnight toast, photo booth, and more! General Admission & Table Seating options available. Get your tickets now before they sellout!
Purchase tickets

TONIGHT'S SHOWS
Hot Club Gypsy Jazz Thursdays; Rudy's French Connection
6:00pm-8:15pm, $12 at the door
Purchase tickets

Hot Club Gypsy Jazz Thursdays; Rudy's French Connection

Every Thursday we honor our New Orleans and French roots and Rudy's comes alive with a variety of small groups in the style of gypsy jazz swing. We bring you music inspired by Django Reinhardt and Stephane Grappelli with "Hot Club" gypsy jazz swing. Known for fierce tempos and effortless improvisation, our Hot Club Gypsy Thursdays are sure to entertain, inspire, and bring you back to some authentic "jazz manouche" with groups either led or curated by New Orleans LA native Brook Sutton.

There's no better place to chill, cozy up and relax after work. Imbibe French Quarter inspired cocktails or a glass of Côtes du Rhône, and enjoy some gumbo and beignets, while listening to the rhythm and mood of hot club jazz in Nashville's most intimate and romantic room.
The MF Art of Listening
9:00pm-11:15pm, $20 at the door
Purchase tickets

MF Art Of Listening Featuring - Musicians creating a musical conversation on the spot. Getting back to the original love of what draws musicians into music. Trusting the music and musicians to guide and discover what it means to improvise much in the same way we communicate verbally. Drummer extraordinaire Marcus Finnie assembles a unique group of very special artists for this show, comprised of elite session artists or musicians on tour in the Nashville vicinity. Featuring Marcus Finnie on drums, Mabel Flowers on organ, Johnny Duke on guitar and Greg Bryant on bass.

Marcus Finnie
As a Memphis native and Nashville resident, Marcus Finnie has toured the world with Kirk Whalum, Keb' Mo', Taj Mahal, Brett Eldredge, Kurt Elling, Charlie Hunter, Lady Antebellum, Larry Carlton, Donna Summer, India Arie, Kurt Elling, Billy Preston, Earl Klugh, Beegie Adair, Dave Koz and many others. Marcus has also recorded with Grammy and Stellar Award nominated and winning artists' Jacob Whitesides, Kent Lattimore, Ledisi, Andy Mineo, Kirk Whalum, Keb Mo & Taj Mahal, India Arie, Joss Stone, Butch Walker, Charlie Peacock, Michael McDonald, and several others.

Mabel Flowers
At the age of 5 the sound of the Hammond filled her ears and soul, she rose from her seat and knew that she would play the Hammond B3. Her father gave her her first piano lesson. Both of her parents were proficient in reading music. Mabel and her mother played together at church for 6 years. Her parents shared the music they loved with her. Mabel's mother was enthusiastic for classical music, hymns, spirituals, gospel, R&B and jazz; while her Father preferred classical, hymns, anthems and spirituals.

From the age of 11-17 Mabel played for the choirs of her Junior High and High School; also at her Father's church and other special events. At 15 she started teaching piano lessons, a profession that has endured to the present. Along the way she majored in Music Education at the University of Memphis. As a prominent sacred musician Mabel has played for Baptist, A.M.E., C.M.E., United Methodist, COGIC and Seven Day Adventist, among others. She has played for City, State and Regional Church Congresses and Conventions throughout the state of Tn.

Mabel also has a career in secular music beginning with her first club date at Blues Ally in Memphis where she sang and played "Stormy Monday". On the concert stage Mabel has performed with Edwin Hawkins in 1992-1993 at the Orpheum Theatre in Memphis, TN. And accompanied Richard Smallwood for Aids week in 2005 in Nashville TN. Mabel was the 1st Music Director for the Volunteer State Mass Choir, serving them for 5 years, in Nashville TN. Mabel is the owner and CEO of MVP & Company...CONNECTING THE DOTS.

Johnny Duke
As a solo artist and as a go-to guitarist for numerous world-renowned acts, Nashville-based guitarist, vocalist, songwriter, and producer Johnny "Duke" Lippincott draws upon a musical vocabulary that spans the spectrum from the delta blues to Debussy. As a songwriter and performer, he merges masterful technique and remarkable depth of feeling with themes that touch on the essence of the human experience. Johnny's inimitable balance of ease and intensity on his instrument distinguishes him as both an innate and cultivated musical talent. According to David Bromberg, "If you work hard enough, you can reach a stage where it seems as though the music is coming from somewhere else and is simply going through you. That's Johnny. He's there all the time. This is very, very rare."

In music and in life, Johnny exudes a sense of clarity, presence, and humble wisdom. His deeply introspective 2022 solo release, Sonic Valley, is both dreamy and spirited, with elements of folk, rock, jazz, blues, psychedelia, electronica, and trance that culminate in an astonishing clarity of tone and message. Pollinating songs with a mix of cultural and stylistic influences, he's described his creative intention as tapping into multiple levels of consciousness and "clothing a mystical experience in music." On "Galaxy Love," the opening track, he sings, "Time and space fall away/into sand, into clay/and all the while, I'm lost in love." An infectious groove topped with cool jazz licks form the essence of "Get Away," while "New Moon" zooms in on his guitar virtuosity. "Galaxy Love," "Children of Light," and "Calling Out for Love," center the album, blending layers of sound into a lush and poignant unity. In terms of performance, Duke showcases the full breadth of his talent, featuring acoustic, electric, slide, and fingerstyle elements, which he melds with touches of organ, pedal steel, banjo, mandolin, accordion, electronica, percussion, and his own warm, welcoming vocals. An epic mystical and sonic journey, this self-produced album gradually builds into an ecstatic experience of musical and spiritual realization.

Johnny Duke was born in Knoxville and spent the latter part of his childhood going back and forth between his father's house in rural Mississippi and his mother's in Wilmington, Delaware. After picking up his first guitar at the age of ten, he was soon sitting in with local blues musicians, including Willie Kind and Terry "Harmonica" Bean, at festivals and small clubs around the Mississippi Delta. At age fourteen, Johnny began sitting in with David Bromberg on a regular basis, a seminal relationship that significantly shaped him musically and personally. In 2006, D'Addario Strings awarded him a scholarship to Berklee College of Music, where he formed and toured with the band Johnny Duke and the Aces. Since graduating in 2009, he's backed a long list of musical legends, including Little Big Town, B.B. King, Keb' Mo', Mary Chapin Carpenter, Ashley Monroe, Lee Ann Womack, Vince Gill, Jimmy Buffett, Kacey Musgraves, Chris Stapleton, Don Was, Maren Morris and more. Johnny recorded electric and acoustic guitar, mandolin, banjo, and pedal steel on two of Little Big Town's platinum selling albums, Tornado and Painkiller. As a sideman, he's toured worldwide, appearing at numerous renowned venues, including Madison Square Garden, The Kennedy Center, The Royal Liverpool Philharmonic, Red Rocks in CO, Wolf Trap, and The Ryman Auditorium, as well as on TV shows such as Ellen and Kelly Clarkson. As a songwriter, Johnny co-wrote Jimmy Buffett's single Slow Lane from his 2020 album Life On The Flip Side.

Greg Bryant
Greg Bryant is a longtime contributor to the music scene in Nashville, as a bassist, a bandleader (Concurrence, The Greg Bryant Expansion) and as a broadcaster. That last role, which goes back to his early teenage years, has now brought him to the greater New York area and WBGO-FM, as the host of Jazz After Hours.

Before leaving Nashville, Greg was named "instrumentalist of the year" by the Nashville Independent Music Awards (NIMA) and his group Concurrence, co-led with pianist Paul Horton, was named "best jazz group" by the Nashville Scene. He also cultivated a local concert series where he brought renowned improvisational musicians to the Nashville area including Dr. Lonnie Smith, Charlie Hunter, John Ellis, Logan Richardson and Peter Bernstein.